Haruna Nagashima is not your average high school girl. She never devoted any time to romance when she was in junior high. She never thought about any of that stuff. She was fully focused on one thing: sports. As a softball player, she only cared about softball. But now that she's moving from middle school to high school, she's having a change in priorities.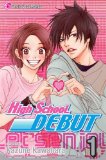 By Kazune Kawahara
Publisher: Viz Media
Age Rating: Teen (13+)
Genre: Romance
Price: $8.99
Who doesn't want to fall in love? Little bumbling Haruna tries to follow advice in magazines and shojo manga to pick up a boyfriend, and ends up a train wreck. So, she decides, that just like when she was a softball player, she's going to need a coach to get better at love.
A fairly silly premise, it seems. I was initially skeptical about where the book was going, but that's when you meet Yoh – the guy that Haruna gets to be her coach. The primary relationship is right there staring at you, right in the face, but adding this grumpy male lead as the bounce board for ridiculous Haruna turned the story into a real charmer.
Yoh tries to show Haruna some fashion tips, gets her clothing, and helps her figure out what a relationship is supposed to be like. She's totally oblivious of course, and so his crabby demeanor and her antics make the book really funny at times. Even better, this plot line stays away from the pitfalls that could make a cute premise mediocre.
The most interesting thing that manga-ka Kazune Kawahara does in this first volume is set up Haruna to like a guy that isn't Yoh! What a mess! And that gives this story its charm – Haruna, this stubborn, cute, and fussy girl with no social skills, is going to trudge her way to a relationship and a happy-ever-after, like it or not, and she's going to make some mistakes along the way. In the hands of someone who doesn't know what they are doing, this could have panned out poorly, but the first volume left me intrigued, and I'm glad that the characters are getting their chance to develop and stray from each other.
The artwork for High School Debut is surprisingly good – Nagashima is quite adept at using facial expressions and body language to show what her characters are thinking, and she has a good understanding of when to use exaggeration and when to stay away from it. The panels are also uniquely laid out, and it makes the book a much more organic read.
The story, while not being amazing, is cute, and it quickly charms the reader. Add to that some very beautiful line work and excellent tones, and this book is actually quite a pleasure to read.