Juvia and Gray continue to battle as the rival guild continues its assault on Fairy Tail. As the two battle, Gray is impervious to Juvia's words. But despite their bickering, Gray manages to overcome Juvia's obstacle and leaves just one of the Elemental 4 for Fairy Tail to take down.
Originally reviewed by Dan Polley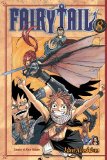 By Hiro Mashima
Publisher: Kodansha Comics
Genre: Action, Fantasy
Rating: Teens (13+)
Price: $10.99
Meanwhile, Natsu is taking on the best of the Elemental 4. His magic is smooth and efficient whereas Natsu's is frenetic and disjointed. The face-off doesn't appear to be an even match at all until other Fairy Tail guild members show up and lend an assist. Still, for their enemy, it just means the task requires more concentration; defeat is not imminent.
Unfortunately for Fairy Tail, one of the enemy guild's members, Gajeel, has Lucy. But Erza has a plan: Unleash the full power of Natsu's potential.
Master Jose plows through minions of Fairy Tail members, all while Gajeel sits and toys with Lucy, who is being held prisoner in shackles linked to a wall. During the fight of Gajeel and Natsu, the duo learn about each other and their powers — and they discover they have something in common, a bond that crosses all guild structures.
Still, when there's the power of friendship and camaraderie, one must never be counted out, as Master Jose and Gajeel learn. But will it be enough to keep Fairy Tail safe from this guild attack?
Make no mistake: This is an action-filled volume with several battles involving many of Fairy Tail's members. But there still does seem to be a bit of plot development, albeit in small doses with no blockbuster pronouncements. The action is great, but without the hint of plot development sprinkled in, it would be a bit of a disappointment. Thankfully it is not.
Review copy provided by publisher.