At Matabi Academy, students are allowed to bring their pet cats to the dorms.  For Yumi Hayakawa, whose favorite hobby is making clothes for her kitty Kansuke, Matabi seems like a sure bet.  After all, nothing can possibly go wrong with her best friend at her side! But on the first day of school, the two find themselves face-to-face with a murderous demonic minion on campus! Will Yumi and Kansuke be able to defend themselves and their school against an ancient cat demon's thirst for vengeance?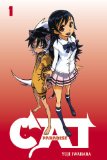 By Yuji Iwahara
Publisher: Yen Press
Age Rating: Older Teen
Genre: Supernatural/Action
Price: $10.99
Usually ditzy lead characters like Yumi Hayakawa annoy me to no end, and make me dislike a series greatly.  But not in this series.  Why? Because Yumi has Kansuke, her no-nonsense, tough as nails cat to constantly berate her and keep her in line.  And that's the charm of this first volume; Yumi and Kansuke's relationship and how it changes when the demonic forces come into play.
When we first meet Yumi, we see how thoughtless and clueless she can be.  Riding the train to her new school, she puts Kansuke in her suitcase, and forgets to let him out.  It never occurs to her that Kansuke's displeasure with her could be related to the outfits she likes to knit for him, even when it's point out to her by her friend.  She even gets lost on her way to the welcoming ceremony.  But all of Yumi's faults are tempered by very realistic reactions to the situation around her.  She freaks out as one would expect a teenage girl would when confronted by a monster.  She skeptical that her knitting skills can do anything to help fight the monster.  She admits her fear at the burden suddenly thrust on her by Kansuke's choice.  All these things make her a more rounded character, more believable.  And then there's Kansuke.
Kansuke seems to have a "tough love" kind of attitude toward Yumi.  He's always meowing at her, and showing his displeasure for her clothes for him by shredding them, but he also really cares about her.  Even though she can be thoughtless, she can also be selfless, putting herself in harm's way for others.  In short, her stupidity annoys him, but it's that stupidity that makes him love her as well, and want to protect her.  It's his intense feelings to be strong and to keep Yumi safe and happy that draws the pair into the battle against Kaen.  This seems to be a theme, as is seen with Hasutani and Musashimaru, another pair with the power to fight Kaen.  Kansuke and Yumi make a good pair, Kansuke's pragmatic attitude balancing against Yumi's more carefree attitude.  Rather like an inter-species Odd Couple.
The story moves at a good pace, balancing the action and the exposition nicely.  There's a lot of background given in this first volume, including how Yumi and Kansuke met, who Kaen is and why he must be stopped and Hasutani and Musashimaru's background.  There might be an element of romance between Yumi and Akifuji, the human part of another pair and good doses of humor are sprinkled around.  The art isn't like you're typical shonen/shojo title.  It's much more realistic, even with its fantasy elements.  Even the bishonen aren't that bishi.  I especially like the way Iwahara draws the cats, their bodies often reflecting their personality.  The spirit beasts are well done as well, as frightening as they are fantastic, and even they have their touch of humor.
Cat Paradise is a great action series.  It's mix of humor, drama and action all make it a series worth reading over and over.  Cat lovers will really enjoy this series, as Iwahara really captures what it is to be a cat, and they get just as much, if not more, screen time as the humans.  But the well-rounded characters and strong story make this a title anyone can enjoy.  I highly recommend it.