There was much talk about Kodansha's decision to open offices in the US many months back. We know several publishers lost their licenses with Kodansha, and there was fear other Japanese publishers might follow suit. So far the sky hasn't fallen yet, but in the meantime Kodansha has not flooded the market with titles, but has fairly quietly released what will be one of the biggest re-releases of the year.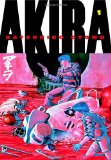 By Katsuhiro Otomo
Publisher: Kodansha Comics
Age Rating: 16+
Genre: Sci-fi
Price: 24.99 USD
Along with Ghost in the Shell, we recently had the re-release of the first book of the six-volume Akira series. Both of these titles were many Americans' first introductions not to manga, but anime cinema in the late 80s and early 90s, but both originated as manga in the 80s in Japan.
There is little point in giving a synopsis of the first volume of Akira. If you have read it (and chances are you have) you don't need one and if you haven't read it (and chances are you will) you won't want one. Dark Horse released what looks like almost the exact same book in 2000, but it has been out of print for quite a while, so this release will be welcomed with open arms… especially for those that have found the other five volumes available, but not this first one.
I am not sure if there is any change in the translation, but it is nice that Dark Horse president Mike Richardson passes the license back to Kodansha with a very appropriate afterword at the end of this first volume. All's fair in love and war, but Richardson shows class in bridging the perceived rivalry and welcoming Kodansha to the American manga market.
This is an action-packed and high-speed first volume. Later volumes get more wordy, but much of this first volume plays like storyboards in the first 30 minutes of the movie. I am guessing that even if you haven't read Akira, you have seen the movie. If you haven't seen the movie, STOP and get on your Netflix now. (Too bad it isn't on instant queue.) The reason is, what I like about the manga series of Akira compared to the anime movie is its comprehensibility. Where the movie keeps the same quick clip sometimes sacrificing substance over style and pace, the reader of the manga can go at the speed that works for him or her.
Much like Shirow Masamune's Ghost in the Shell, Katsuhiro's Otomo's Akira is loaded with detail. It is so nice to see this manga come out in the original large size format. At 340+ pages and almost one and a half pounds, this is a big book. However, even pages with no dialog will want to be explored closely. This is the (almost) the exact same story presented in the movie version, but the nice thing about the manga is that you can take you time and really soak in the story. I have probably seen "Akira" the movie a dozen times, but it is still hard for me to explain to people what actually happens. Rereading even the first volume of the manga has allowed me to fill in some of those holes, which grow exponentially as the story continues.
Manga like Akira don't come around often. This cyber-punk era seinen staple is beyond a must-read. It is a must-own and must-share.