I've been reading a lot of shojo lately, and I have to say that while a lot of it has been quite good (Boys Over Flowers, Honey Hunt) and some has been spectacularly bad (Magic Touch). I'd heard that We Were There was good, but I was skeptical. When I picked up the first volume, I approached the series with some reservation. After the first chapter, I had mixed feelings. Still, We Were There surely was different from what I'd been used to.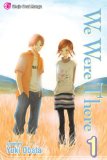 By Yuki Obata
Publisher: Viz Media
Age Rating: Older Teen
Genre: Romance/Drama
Price: $8.99
As a breath of fresh air, the characters of We Were There are intriguing, but not too complicated, at least initially. Nanami (or Nana, for short) is that same sort of shojo heroine you're used to. As a brand new high school student, she hopes to make a few new friends. Instead, she ends up not fitting in, which, in shojo manga, seems to be the norm, and not the exception. Left alone by the girls, she winds up talking with the super-popular Yano, the love interest of the series who has a bit of an unexplored past. The intro volume gets us accustomed to all of the key characters, and sets up the relationship between Yano and Nana.
In the first volume, we actually get a bit more of Yano than Nana, and that's a kind of refreshing change as a male reader of shojo manga. Sure, yes, it's supposed to be a girl's manga, she's supposed to relate to the heroine, and all that jazz. But Yano is a complicated character who ends up being likeable, and author/illustrator Obata subtly changes the way he comes off – from the jerk who doesn't give a crap about anything to the grieving, confused boy who has given up on the unnecessary niceties of society. It's this change that changes a seemingly simple case of girl likes boy to something much more complicated.
Supporting characters further complicate the experience, and make the manga a little soapier. Yuri, a brusque girl who is the younger sister of Yano's recently deceased ex-girlfriend acts as a sort of relationship deterrent, and while Nana tries to be nice, Yuri comes off as disinterested and short with the heroine. Yuri isn't necessarily a bad person though – it's clear that she's also dealing with her sister's death, and her relationship with Yano is cloudy.
My one main concern is the art of the series, and more specifically, the eyes of the characters. Obata has a strange way of drawing eyes. At some points, they look very much like the shojo eyes everyone expects – big, glittering, watery things that dwarf the rest of the face. In We Were There, though, some panels show characters with ugly fish eyes – a simplified version of the shojo eye that looks more carp than character, and really turns me off to the rest of the panel. The rest of the art is fine, and the paneling and pacing, while not necessarily memorable, are at least remarkable in their consistency.
Viz Media is publishing We Were There in its Shojo Beat line, and the series follows the same pricing patterns and quality markers of other books in the line. Over the past few years, the covers of shojo manga have developed nicely, and We Were There is a good example of a decently constructed book with an appealing cover.
We Were There is something of a new experience for me, for a few reasons. Unlike other shojo that I've been reading, We Were There isn't silly. There isn't a villain. It is simple, unadulterated emotion. That alone is something of a shock. I'm used to schlocky plot lines. I've seen outrageous setups. We Were There avoids all of those things and instead delivers something more visceral. Despite my concerns with the art, this first volume is a solid introduction to the series.