It's been a bitter few weeks in the manga industry here in the USA. CMX and GoComi! were closed up, and Viz laid off 40% of its workforce. It's a tough economy, and  while some of this is definitely expected, it hits sort of hard. Likewise, Itazura na Kiss is something of a bittersweet story. DMP managed to get the rights to it and start publishing it after news of the author's death was delivered to American fans. The series, at 23 volumes, is currently unfinished. Kaoru Tada had an unfortunate accident while moving in 1999, and died shortly after of cerebral hemorrhage. I use the phrase bittersweet because, while the series is unfinished and the author died at a young age, DMP is giving us the rare opportunity to experience this classic manga. I'm ready for my clouds to have some silver linings.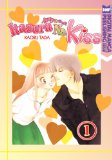 By Kaoru Tada
Publisher: Digital Manga Publishing
Age Rating: Teen
Genre: Romance Comdey
Price: $16.95
Kotoko, the sweet, kinda dumb, and klutzy lead girl of Itazura na Kiss, starts out our series by confessing her feelings to the brilliant and icy Naoki, and after being roundly rejected by him in the first few pages, and I'm pretty sure that after such an embarrassing display, she's looking for silver linings in her clouds as well. Unfortunately, she doesn't seem to find them. Her brand new house falls down after a mild earthquake, and she is forced to move in with Naoki and his family.
The art of Itazura na Kiss is not unattractive, but it's definitely only a little better than run of the mill. The character designs are very distinct compared to other shojo manga, but the sparse tones and backgrounds definitely show that this manga is older than what's generally being released on the market right now. Don't let my pooh-poohing scare you off – over time, I found that I liked the change of pace that the older art provided – it was simpler, yes, but it wasn't necessarily worse. The clean illustrations made the comic very easy to read. The art isn't really the big draw for the title though – the draw is its characters.
Kaouru Tada had a great way of making characters realistic. Even when the most odd and obscene things happen to a main character, the author still makes it believable. Kotoko is an awesome heroine, and everyone in Naoki's family has a very distinct and well scripted personality. It's so easy to get drawn in to the story because the character interactions are all so well written.  Additionally, the characters of Itazura na Kiss are complex, interesting, and they grow and develop as the book moves forward. The character interactions actually change the characters – what a refreshing change from normal shojo!
Humorous events throughout the book frame the rest of the action in the book and make it much more entertaining. Even small jokes from one section of the book can be referenced again in a later page, much to my excitement.
I generally sympathize with characters in manga, but while reading Itazura na Kiss, my reactions were much more intense. At one point, I was furious with Naoki, and absolutely elated that Kotoko had found a way to get back at him for being a scum ball. I think that's a sign of great writing, and it really impressed me.
Another thing that impressed me was the publisher's work on the series. Itazura na Kiss comes in an omnibus format from DMP, which I think is a sleek business move. Releasing a large series like Itazura na Kiss is arguably difficult and costly, but you really get your money's worth with this release, and you can get the series completed in half the volumes. The translation doesn't seem too stiff, and the book reads very easily. All in all, DMP produces an excellent reading experience.
We've all read shojo where the klutzy girl likes the mean (but also nice, in his own way) boy. It's a shojo cliché. Itazura na Kiss started publishing in 1991, and is probably one of the progenitors of this style of shojo. It's no doubt that Itazura na Kiss set the groundwork for modern shojo, and helped it become what it is today. What interests me most is that of all the other shojo that I've read that follows in this trope, none has been quite as entertaining than Itazura na Kiss. I wholeheartedly recommend Itazura na Kiss; it's quite possibly the best shojo in the American market currently in print.