For all Kyousuke's resistance to Tena and her bossy ways, he seems to have settled in quite nicely to being a sort of househusband to her and the other tuners. But while Mezzo and Sopra have agreed not to collect Kyousuke's viral notes, there's no telling what might happen if he meets yet another tuner! So when Kyousuke runs into Arun, an elite tuner at the top of her class, could this spell the end of his musical aspirations . . . and his life!?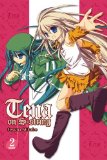 By Sesuna Mikabe
Publisher: Yen Press
Age Rating: Older Teen
Genre: Seinen
Price: $10.99
Sesuna Mikabe's Tena on S-String revolves around a tuner named Tena and her "slave" Kyosuke. Tena is a spoiled and bossy tuner that has Kyosuke wrapped around her little finger. Kyosuke is Tena's "slave" and essentially takes care of her and two of her other tuner friends. Kyosuke, the male lead, is an aspiring musician and composer. In this 2nd volume of the series just when Kyosuke thinks he has enough dealing with tuners 24/7, dealing with the bratty Tena both in and out of his home, he runs into another tuner!
Despite what the quick synopsis may claim I didn't find any scenes involving Kyosuke that could be deemed as life threatening. Rather I liked the introduction of Arun, especially because Tena was not involved in those parts. I seemed to have a harder time getting through this volume than I first thought. The artwork seemed to be leaning more towards a shojo-ish style then seinen, which could cause the reader to stop and scratch their head a bit. The parts of this volume that dealt with the other tuners living with Kyosuke and, later on in the story, when he runs into another tuner were the most enjoyable to read. I wanted to see the other tuners, Mezzo and Sopra, fleshed out some more throughout the volume, even though tuners other than Tena, did take up at least half of the plot and most of my attention.
It is sad to say but I just couldn't stand the main character: Tena. Her constantly being domineering and controlling of Kyosuke just got too old too fast for me. The only saving grace she had for me was her gothic lolita type clothes she had. I enjoyed the color insert in the beginning of the book. This volume doesn't have end on a cliffhanger which as a reader left me satisfied enough at the moment with this series. I don't plan on running out to quickly read the third volume as it left me mildly interested in the story and plot thus far. Since I already have a massive to-be-read pile I doubt it would be anytime soon.