Crown Prince Shin and Crown Princess Chae-Kyung are the picture of happiness as they celebrate their first wedding anniversary in a lavish, high-profile public display…but all is not well behind those loving gazes and wide smiles. With the tension between her and Shin growing, Chae-Kyung can't help but look for a way out of her situation. But when the Queen, who is with child, decides to have Chae-Kyung be her proxy, the pressure is on for Chae-Kyung to keep herself and her marriage together. Will she look to Yul for guidance, even if his advice could spell disaster for the royal family that Chae-Kyung is growing to love?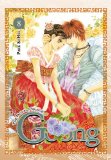 By So Hee Park
Publisher: Yen Press
Age Rating: Teen
Genre: Drama/Romance
Price: $10.99
 Things aren't getting any easier for Chae-Kyung in this volume of Goong. News that the Queen Mother is pregnant causes complications for everyone in the palace. For Chae-Kyung, it draws her further into the affairs of the palace, when all she wants is out. For Shin, it causes him to become serious about being the Crown Prince, and that means divorce may no longer be an option for him and Chae-Kyung.
The possibility of a new heir in the palace causes a shift in priorities for a lot of people in this volume. Shin decides he can no longer keep trying to get out of being the Crown Prince. He feels a responsibility to his mother, and doesn't want to leave her and his soon-to-be sibling alone in the viper's den that the palace can be. But if he has to stay and be miserable, he is determined that Chae-Kyung will stay with him. He can no longer promise her the divorce she's been longing for, for the last year. This only makes Chae-Kyung more desperate to want to leave. But, her inability to refuse the Queen Mother instead pulls her further into the workings of the palace as she becomes the Queen Mother's proxy, over the Daebi-mama, who seems to have another plot brewing again Shin and Chae-Kyung, that now has to speed up. Yul now doesn't just want to win Chae-Kyung over, he wants to hurt Shin by taking away what's most important to him.
There isn't much change in Shin and Chae-Kyung's love-hate relationship. Shin continues to be cruel in one moment, and then show a moment of kindness in another. But Chae-Kyung is getting used to life in the palace and with Shin as she starts to shoot back at him, leaving him speechless at one point. That was nice to see. But after eight volumes of the volleys, it would be nice to see more movement forward in their relationship. The two-steps-forward, one-step-back is starting to get tiresome.
It was also nice to see Shin step up and start accepting his responsibility as Crown Prince. While the King keeps going on about the arson fire set in Daebi-mama's quarters, showing his obvious bias for her even though his actual wife is now pregnant with his child, Shin nicely tells him off, that he's going to remain Crown Prince whether the King likes it or not. I would like to see something like this from Chae-Kyung. She is a little too whiny about not wanting to be in the palace, and wanting to go home. She was doing well against the pit of vipers that is the Weimyung-bu, keeping them in their place (with some help of course). More of that would be good, but to get that she would have to accept her place in the palace.
Yul seems to be turning down a dark path, as he goes out for revenge against Shin rather than just win Chae-Kyung over. I liked him better as the friend/third side of a love triangle than the almost menacing figure he's becoming. It seems the apple doesn't fall far from the tree after all. And I have no sympathy for Daebi-mama. She claims to have given up her happiness to fulfill her promise to make Yul the Crown Prince, but she's too power-hungry for that to really be believed. Her only happiness comes from growing influence and power, and she really needs to be checked.
Overall, Goong provides another volume of soap-opera-y goodness. It's crisis after crisis, and the surprises never stop. The ending is also a fitting cliffhanger. Reading about characters getting so dramatic about their lives and problems has never been so much fun.