Winner of 2010 Eisner for Best U.S. Edition of International Matierial-Asia!
Nearly 850 pages of pure comics genius. And it feels like it ends just a bit abruptly.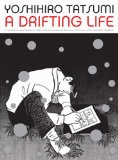 By Yoshihiro Tatsumi
Publisher: Drawn & Quarterly
Genre: Autobiography/Memoir
Rating: Older Teen
Price: $29.95

But that's a minor point against it. A Drifting Life is epic. It's sort of a mashup of several things, even though it's an autobiography mainly about the comics career of Yoshihiro Tatsumi. He also draws highly from his family life, even far into his adulthood.
What's interesting about the work is that pieces of history and other short elements are woven into the narrative in a way that makes this more than just an autobiography — it's sort of a window into the era and culture of Japan.
But, most importantly, it's about comics.
Tatsumi grew up interested in comics, so the main focus through the work is on his career as a manga creator and how that meshed with his personal and school lives. But it starts at the end of World War II, just as the Japanese emperor announced the surrender of the country. The earliest reference to comics in the work is Tatsumi asking his brother if he was able to find Osamu Tezuka's "Lost World."
Tatsumi and his brother grew up admiring comics and adoring Tezuka and others. They both dreamed of a future comics career. Tatsumi engaged in his passion, creating comics and sending them in to Manga Shonen and other publications. At first his works were not good enough to be published. But then he kept getting his works published, sometimes even two works in one publication.
>From there, he and several other young manga-ka formed the Children's Manga Association and published their works. One of the most striking parts of the novel came after his Tatsumi, in his teen years, found that his brother had torn up lots of his comics pages, partially because of jealousy and partially because he was sick for an extended time and was unable to create anything.
Cinema was a main thread through the novel, too. Tatsumi would see double and triple features when films came to Japan. Then he would take elements of storytelling of what he had seen and translate that and use them in his comics. For him, comics were a form that could handle alternative storytelling, and he experimented with that a lot. He started to watch a lot of film, domestic and foreign, and became enthralled with a lot of foreign films, among them "Bambi."
The work also focused on creators working for multiple publishing houses. In those instances, the competing house that agreed to print the artist's work would ascribe a pen name to it, so that the publishing house that worked with the artist first would not see a loss of income from consumers looking for a specific artist.
Tokyo. It's the capital of Japan, and it's also the place where Tatsumi and others tried to get their own artists coalition going. But it ended up throttling Tatsumi's creativity because he would spend so much of his time trying to correspond with the others, edit their works and perform all the behind-the-scenes duties. Eventually coalition sizzled out, and Tatsumi was all the happier for it doing so.
Other things Tatsumi touches upon in the work include his family relationships (his dad in particular seems to be quite a character), uneasiness around women, and thoughts on comics. (Quite often he engages in arguments with his brother, who seems to hold a more traditional sense of what comics should be; the two butt heads more than a handful of times.)
Perhaps the one thing that did seem lacking about this monster work was the end, at least in terms of Tatsumi's career. There was one final scene from 1995, a skip of 35 years from the previous scene. It's a bit odd that the author would choose to skip over so much of his career, but that could be that he felt he had told all of his influence on comics already. And he'd certainly be right. Still, I found the ending just a big lacking, almost like crashing into a wall.
But the ending was not enough to pull down the work as a whole. In fact, it is quite an accomplishment to not only show his creative side, but to do so in a way that is endearing and interesting. You won't want to put this down.