Thrust in the middle of a family feud, Jae-Gyu reluctantly accepts Whie-Hwan's proposal (he may be a jerk, but he's loaded!). For the next month, she's agreed to pose as his live-in girlfriend and obey his every command! It's been less than a week since she moved to Seoul, and already she's in way over her head! And small-town life has done little to prepare her for the dark deeds of city nightlife. When Jae-Gyu's ignorance lands her in a roomful of eager playboys with money to burn, will it be her millionaire "boyfriend" or her rock star admirer who comes to the rescue?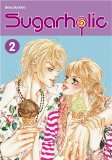 By GooGoo Gong
Publisher: Yen Press
Age Rating: Teen
Genre: Drama/Romance
Price: $10.99
This next installment of Gong GooGoo's Sugarholic picks up right where it left off in the first volume. The seemingly ignorant Jea-Gyu ends up staying at rich boy Whie-Hwan's apartment and agrees to his demands of being in a fake relationship with him in an attempt to fool his guardian and to atone for the ordeal she caused in the previous volume . In a plot twist this will end up being to Jea-Gyu's advantage as staying at her brother's place turns out not to be so stable after all.
One of the big draws that I have towards this series is the humor that stems from Jea-Gyu's self embarrassing moments that she isn't even conscious of while doing. For me it is a reminder that she isn't a city slicker and has much to learn about the vile aspects of what city life has to hold; especially when night falls. As a reader it is hard to tell whether she blindly believes that her friend's coworkers are taking her to some fancy party as a paid guest or if she is just that nonchalant that she doesn't care either way. So far the plot has been building up these various situations involving Jae-Gyu but nothing has really blown up in her face or begin to unravel before her. This pulls me in more to see if the plot will build up more and more or will it unravel in one fell swoop by the hands of fate.
I really enjoyed that this volume comes with a sneak-peak at what happened after a certain "kiss." The great artwork and thickening plot is keeping me interested in how this series will unfold. Hoping that Whie-Hwan and pop stars get fleshed out some more in the coming volumes, though we got a glance at Whie-Hwan's background it still leaves much to be know about his current situation. The first volume introduced a lot of side characters (which with any series can be a tad overwhelming at first trying to keep track) but now we are beginning to see their stories unfold and how they intertwine at some intervals in this volume.