Admitted to the prestigious Tokyo Space School, Asumi appears to be on track to make her dreams come true. However, enrollment was just the first of many trials she must overcome on her path to the stars.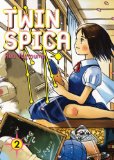 By Kou Yaginuma
Publisher: Vertical, Inc.
Age Rating: Tween/Teen
Genre: Drama/Space
Price: $10.95
As Space School starts, Asumi is still enthusiastic about it despite having several disadvantages working against her. Her family is poorer than most of the other students. She is there on a scholarship. She has to live in a 40-year-old dorm and work a part-time job in a restaurant. She doesn't even have a cellphone. Her friend flippantly tells her to ask her parents for one since they're only 30,000 ($300), not realizing that's a lot of money for her father to come up with. She's shorter than everyone else. At 4'8″, she doesn't fit the standard gear, and will need special gear made just for her. She's a poor swimmer. We saw in the first volume where she nearly drowned, and as a result doesn't like swimming. Asumi works hard to compensate for as many of these disadvantages as she can, sometimes to the point of exhaustion and/or injuring herself. But that is how determined she is to succeed.
Asumi's biggest disadvantage comes in the form of one of the teachers, Mr. Sano. He apparently worked with Asumi's father on the original Lion mission, and blames him for its failure. He transfers his anger toward Asumi's father to Asumi, and when Asumi's size becomes an issue, he tries to get her to quit the program with the implicit permission of one of the board members. In the harshest of terms he tells her she won't succeed in the program because of her father's failure. His words hit her hard, though, it's hard to tell which part. Does she believe she won't succeed, or does she believe Sano's claim that her father was to blame? Whichever it is, it still works as Asumi distances herself from her friends and is unable to concentrate on her school work.
This volume also gives more insight to Marika Ukita, the stand-offish girl who Asumi keeps trying to be friends with. It does appear that Asumi's persistence is starting to pay off, as Marika helps in trying to find Asumi when it's believed she's lost, and she also dives into the pool to help Asumi when she wears herself out swimming. Both Asumi and Marika seem to have had similar experiences growing up despite their very different circumstances. As Marika realizes this, she does seem to warm more to Asumi. This as well as some background we learn about Marika will no doubt come into play in Asumi's favor in the next volume.
The volume ends with two more short stories about Asumi's childhood. The first is about her elementary school teacher Suzunari, who was in love with the pilot of the Lion, and her struggle with trying to move on with her life. The second shows Asumi's father's job after the accident, where he must meet with victims of the accident and try to offer restitution. This story shows Asumi's trend of not talking about the Lion accident. She meets a girl her age who was disfigured in the accident who is angry and bitter about what she lost, but never once does Asumi share her own losses with the girl. The same is true in the first volume, when she has the flashback to the accident. She breaks down, but never explains to Mariko or Kei why she reacted that way. Her complete avoidance of the tragedy of the Lion accident seems strange, even as a teen. That seems like something one would want to talk about, even 15 years later.
I'm still really enjoying Twin Spica. My only complaint about the series is that volumes are too short! I can understand publishers wanting to end the volume on a cliffhanger just to make sure readers come back, but what about those of us who are already hooked? I don't want to wait for the next volume, I want to know now! I still highly recommend this series. It has a good ensemble cast of characters and a lead that is both likable and relate-able to both teens and adults.