I have been reading quite a bit of shojo lately. I don't think that my interests have changed all that much, to be honest. I still love Takahashi, and I am impatiently waiting for the next volume of Negima! to be released by Kodansha USA. Still, after putting off a few shonen series that I haven't been following too closely, I realized that the bulk of my reading material was actually comics for girls. Which is fine with me, because, in the case of The Story of Saiunkoku, whatever sword-fight or display of power I could find in a shonen action/adventure, I also get in a more appreciable, subtle way with this odd-ball shojo love story.
W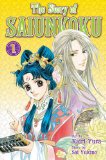 ritten by Sai Yukino; Illustrated by Kairi Yura
Publisher: Viz Media's Shojo Beat line
Age Rating: T for Teen
Genre: Historical/Shojo
Price: US $9.99, CAN $12.99,
ISBN: Vol. 1 – 1421538342, Vol. 2 – 1421538350
The Story of Saiunkoku is a period drama based on light novels written by Sai Yukino, and it focuses on the headstrong and wily Shurei. Born of a noble family, her intelligence and strong will have made her a perfect candidate for public office – except she is ineligible for said office because she is female. Booooo sexism. Instead, her destitute family is offered a large sum of money when one of the emperor's advisors asks Shurei to be the emperor's consort. Shurei is quick to agree.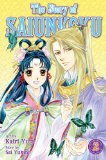 The Story of Saiunkoku opens with a the sort of clockwork style these types of shojo stories are known for, but The Story of Saiunkoku manages to do a bit better than most because it does not take itself too seriously in all the right places. Sai Yukino seems to be adept at changing the tone of the book in natural and yet unexpected ways that make the series fresh and unpredictable. The cast of characters is also quite interesting; we get a mix of old and young advisors, family members, and servants that are all written well.
One of the driving forces of The Story of Saiunkoku is the idea of ambition. It is Shurei's ambition that leads her to be come a consort for the emperor, and it is Ryuki's supposed lack of ambition that leads her to him. The ambitions of court advisors lead to some very dramatic and quickly paced chapters in volume two, which in the end make for a great read. I think the ambition of The Story of Saiunkoku is the sort of tone that the entire series gives off. The art is beautifully detailed, and the language is smart and a little old-fashioned without being "Fakespearean" like another historical drama I read *coughOokucough*. The Story of Saiunkoku is an ambitious shojo manga, and it ends up meeting its ambitions in the first two volumes. Frankly, it is a gem in the wave of new releases this year, and should not be missed by anyone who likes a love story or a period drama.
8