Let's face it – every single person reading this review right now has seen a sitcom. These shows are a pervasive part of TV culture in the United States, and the reason that they do well is because they are very easy to relate to. But sitcoms come and go. There are only a few names that stick out when I think about sitcoms, because the shows are a dime a dozen. Sitcom pitches happen each season, and only a few manage to make it. The reason for this is that it takes a special type of writer to understand what makes a sitcom tick. There have to be plenty of zingy one-liners, sure. But what makes a sitcom a powerful show as opposed to a string of laugh tracks is its human interactions and family dynamics.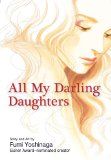 Written and Illustrated by Fumi Yoshinaga
Publisher: Viz Media Signature Series
Age Rating: OT for Older Teen
Genre: Slice of Life/Josei
Price: US $12.99
ISBN: 1421532409
I would like to say that the reason why All My Darling Daughters by Fumi Yoshinaga is so wonderful is due to its strength in these areas. It does have zing, it does have great interactions and family dynamics. But unlike most sitcoms, it has a depth and persuasive tone that cannot be expressed by any "awwww" soundbite.
All My Darling Daughters is a collection of five separate, yet connected stories. The center of the web is Yukiko, a headstrong business woman in her late 20s who lives with her mother, Mari. When her mother announces that she is getting married to an aspiring actor younger than Yukiko she met at a host club, Yukiko goes ballistic. She has never had to fight for her mother's attention before, and now, this interference separates her and makes her feel alone. The two fight. Any reader could expect there to be a reconciliation, and there is, but it is certainly a Yoshinaga one; a wordless panel, daughter sobbing, slouched, her mother protecting, loving, caring, leaning on her daughter's back.
The strength of this collection does not waver in the second story, although it is quite a bit more sordid than the first tale. I have seen other reviewers say that this was a weak part of the book, but I disagree. Although the story definitely wouldn't make daytime television, it crafted a relationship so bizarre and twisted that the, should I say, heartwarming ending was a real surprise.
The powers of All My Darling Daughters reach their crescendo in the third act, which has two halves. The story of a girl looking into arranged marriage is not a usual sort of fiction we generally get from manga, but Yoshinaga is adept at developing relationships, and gives us an interesting look into the world of arranged marriage in Japan. It is a testament to her skills as a writer that she is able to do so much in so little time. She gives two people a scant 11 pages, and you can feel a sense of tension and hopefulness that ultimately is betrayed by one of the most poignant and true-to-life statements I think I have ever read in a comic book.
The other stories in this collection backtrack to our Yukiko's past, detailing the lives of two of her friends in school, and her relationship with her grandmother. Each story is thoughtful, well-developed, and a joy to read, but neither reaches the level of the third act.
Viz Media has given All My Darling Daughters an excellent release. The Signature line, with its colored page inserts and larger page size, is an excellent format for the book. More importantly, stories like those found in All My Darling Daughters are not necessarily money-makers, and I am glad to see Viz take a chance with it.
As a collection, I would have been pleased with any one of the five stories presented in All My Darling Daughters. Together, they have made All My Darling Daughters one of the better short story collections I've seen published in the United States. The book has the best of what makes sitcom television entertaining, with a healthy dash of strong women, developing characters, and uncommon settings for good measure. And, unlike any sitcom, there are no laugh tracks here. There are no "awwws," no measured pieces of comedy or forced gags. Just intelligent, well illustrated storytelling. All My Darling Daughters was a true pleasure to read, and reinforces my belief that Fumi Yoshinaga is one of the best living comics writers of our time.