Fumi Yoshinaga is a creator that often has her works recommended as essential reading material  Here at Manga Village we're not much different! Nearly every reviewer has had something to say about her titles. Some have had a LOT to say.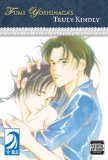 Katherine Farmar has reviewed several of Yoshinaga's titles, both BL and non. Starting with Truly, Kindly, a collection of BL short stories, she had this to say:
Yoshinaga is one of the greats — not just in the BL genre but in the whole field of manga. Her delicately gorgeous art, intensely human characters, smoothly assured storytelling, and ever-present ironic wit combine to create work that is truly special….Yoshinaga's so good at what she does that she's marvellous even when she's not at her best.
Ichigenme…The First Class is Civil Law volume 1 is another BL that Katherine reviewed, saying this:
Yoshinaga's layouts can sometimes look a bit staid by comparison to her contemporaries, but that's only a first impression. In fact, she has an unmatched ability to build a mood through repeated or near-repeated images, through long wordless sequences, and through varying the rhythm of the panels.
Of Yoshinaga's non-BL titles, Katherine said this about Antique Bakery volumes 1-4:
Antique Bakery is a comedy with enough dark notes that it often seems on the verge of becoming tragic, though it never crosses that line; and it's a mouthwatering drama about sweet foods which should make anyone with a sweet tooth very, very hungry; but above all, it's a study of character.
and of Flower of Life volumes 1-4, she says this:
Flower of Life is very funny, with its humour always flowing naturally from the characters and the situation, and it's also very moving; the moment when the significance of the title is revealed brought tears to my eyes.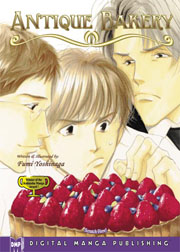 Justin Colussy Estes included Yoshinaga's Antique Bakery volume 1 as part of his celebration of food for Thanksgiving, saying this:
I loved Antique Bakery. Just picking up the book to look over sections for this review had me cracking up seeing again some of the great moments. Yoshinaga has such great control over her characters, their gestures, and facial expressions.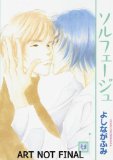 Amy Groki got a hold of the BL title Solfege and had this to say:
Both the highs and lows of their passion were beautifully draw and it is worth mentioning the usage of tones throughout the story. From the darkened tragic moments to the light and clear notes of pure bliss I believe fans both old and new of Fumi Yoshinaga will enjoy this sweet melody.
Finally, Alex Hoffman has reviewed Yoshinaga's josei titles that are available, starting with Not Love, But Delicious Food Makes Me So Happy, he did enjoy the title, mostly, saying this:
Overall, I think that Not Love But Delicious Foods Make Me So Happy is a fine showcase of Yoshinaga's ability to write and create good manga, but because of the narrow way that its subject matter is presented, I can't give this book two thumbs up.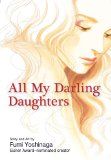 And of All My Daughters, he had this to say:
The book has the best of what makes sitcom television entertaining, with a healthy dash of strong women, developing characters, and uncommon settings for good measure.
With stories that appeal and reach such a wide audience, it's no wonder that Fumi Yoshinaga has garnered so much success. Her titles have been nominated and won awards, as well as the hearts of the Manga Village.