When their high school's pop-music club is about to be disbanded due to lack of interest, four girls step up to fill the membership quota. Unfortunately, lead guitarist Yui Hirasawa has never played an instrument in her life. Ever. And although she likes the idea of being in a band, standing in front of the mirror posing with her guitar is a lot easier than actually playing it. It's gonna be a while before this motley crew is rocking out, but with their spunk and determination cranked to 11, anything is possible!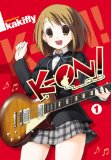 By: Kakifly
Publisher: Yen Press
Age Rating: Young Adult
Genre: Comedy
Price: $11.99
Enjoying tea, friendship, cake, and sometimes picking up their instruments to play Kakifly's K-on! is a 4 panel manga about four girls coming together to create a pop-music club. This slice of life series shows the struggles the girls face with both creating the pop-music club and maintaining it's existence; through recruiting new members and showing their worth to the school through putting on a show.
The color pages throughout the volume are a lovely addition to the volume. Though the girls didn't play their instruments that much throughout the first volume, enjoyable nonetheless, the music charts and scales at the end of the volume make a nice touch. As a reader it reminded me of school days playing in jazz band in high school and goofing around with my friends, much to the dismay of teachers. Although my high school jazz band club didn't include cake and tea which may cause a tinge of jealousy while reading
Overall this introductory volume of K-on! is crafted in a way to gradually acquaint the reader with the four main characters of the series. As one that is new to K-on in general this first volume makes for a nice compact way to experience the pop-music club. Though there is no real pull or cliffhangers at the end of the volume to entice the reader to snatch up the second volume it is more of a light and quick read.