Allison lives with her uncle, the CEO of a bank in deep financial trouble. Blue Summer, a wealthy farm owner, offers him financial aid in return for Allison's hand in marriage. Allison doesn't want a marriage without love, but nevertheless she travels to Blue's mansion to save her aunt and uncle's business…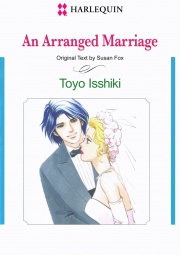 By: Susan Fox, Toyo Issiki
Publisher: Digital Manga Publishing/Harlequin K.K./SOFTBANK Creative Corp.
Age Rating: Older Teen
Genre: Romance
Price: 499 emanga points
The manga adaptation of Susan Fox's "An Arranged Marriage" is a tale of how financial struggles cause a young woman to marry a man for the sake of saving her tyrant uncle's business. The somewhat naive and modest Allison strives to persevere when she agrees to enter a loveless marriage with the wealthy Blue Summer. Blue Summer has had his sights on Allison for a long time but after becoming wealthy he uses his new-found power to convince Allison's uncle into trading off financial aid for the hand of his niece.
Most Harlequin manga titles for me are a quick afternoon read or a nice light trashy romance to delve in for an hour or less. But the lack of development on the behalf of Blue Summer's character irked me a bit as a reader. Typically for a character of his type, poor background but oh snap gets either an inheritance from a long-lost forgotten relative or strikes it rich, they tend to be more sympathetic to a female lead coming from a hard-pressed financial standpoint. Though it could be that the story was so lackluster that as a reader I was looking for more than what was presented. Allison's perseverance to get to know Blue Summer more despite his attempts to dodge her inquisitions into his life holds throughout the entire story.
Though "An Arranged Marriage" is not one of my favorite Harlequin manga adaptations I do recommend for those seeking a quick mindless read, which after a busy day at work or school at times is much welcomed.