Every week, the Manga Villagers will go through the new releases for the week and pick out the titles they are most looking forward to reading. Whether it's buying or just window shopping, check out what we're looking at every week!
Week Ending 8/25/2012:
Alex: It looks as though a few of my picks last week didn't end up in comic stores, so instead of rehashing those picks from last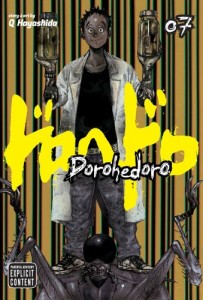 week, I'll be grabbing the 9th volume of Itazura na Kiss – that series is absolutely fantastic, and the often ignored, never matched Dorohedoro, which reaches its 7th volume released in English.
Lori: I'm with you on Dorohedoro, Alex. It's got great characters and a fun story. I'm also picking  a DMP title, Replica, one of their few shonen titles. I found the premise interesting and want to keep reading to see where it goes. Gate 7 is the CLAMP title I'm sitting on the fence about, and really need more volumes to read to decide how I feel. Volume 3 comes out this week.
Amy: This week I'm looking to snag the latest volume of Betrayal Knows My Name. The anime series was hit or miss with me at times but I feel that I'm enjoying the manga much more. Plus I have a soft side for omni edition anything.