In the third volume of The Flowers of Evil, Takao must make a decision. He now has an opportunity to break free from the social shackles that Nakamura has placed on him, as he has a chance to be loved by someone he has affections for. This could also be an opportunity to be accepted by the masses in his small community. But with this choice comes fear and self-reflection.
After having a chance trip to Nakamura's place, where he got to experience the world his only "friend" has grown up in, he realizes that for both teens, there is very little future to look forward to as they are raised in the boonies. Their lives are mapped out before them. For most adolescents these days, life will continue to be blasé at best, miserable at worst.
Can they change things together? Do they want to even bother?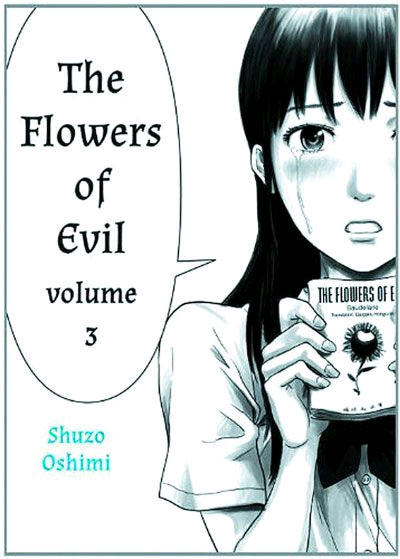 By Shuzo Oshimi
Publisher: Vertical
Age Rating: 13+
Genre: Psychological
Price: $10.95
Takao becomes the center of Shuzo Oshimi's third volume of The Flowers of Evil. Pushed against a proverbial brick wall, Takao decides to run from the masses instead of becoming one of them. Though he doesn't break free according to his own will, he is instead pushed by the ever-present Nakamura.
In this volume, Takao's action begins to reach its height as the consequences finally creep into the storyline. The downhearted and fatalistic teens are confronted head on with shame as they try to escape their unsettled daily high school lives.
As a reader I've been anticipating the moment when Nakamura's hijinks would reach its breaking point but I don't believe it has just quite yet. Though the actions of Takao have become clearer to those outside of the trio, the consequential wrench has only just been thrown into the plot.
Flowers of Evil has been one of my personal favorite series of 2012 and I anxiously await the release of the fourth volume in early 2013. I'm looking forward to see how much further this trio of tortured beings can be pushed, whether by the world they live in or by each other.
Review copy provided by publisher.