After the intense drama of the Burnish Academy TV shoot, each member of the Muroe kendo team has a new outlook on their involvement with kendo, and Tamaki is eager to learn what reasons her friends have for participating in the sport, hoping they will help her find her own motivation. Kojiro plans a trip to observe the Gokuryuki national tournament to help Tamaki on her search, and with the support of her family and friends, Tamaki takes a confident step toward the future in the final volume of Bamboo Blade!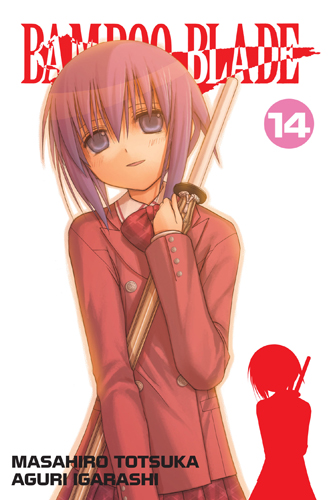 Story by Masahiro Totsuka; Art by Aguri Igarashi
Publisher: Yen Press
Age Rating: Older Teen
Genre: Sports
ISBN: 9780316189583
Price: $11.99
I was really drawn in to Bamboo Blade with the Burnish Academy arc, not knowing it was also the final arc of the series. My review of volumes 9-13 had me brimming with excitement for more, but this last volume of the series isn't about the intense action and drama that the last 5 had. Instead it's a quiet reflection of how far all the characters have grown and changed. But that is far from being a bad thing.
After all the intensity of the match between Erina and Ura, this volume starts out much lighter. The rest of the TV shoot is narrated by Kojiro. The story then goes into tying up the last of the character arcs. Ryouko and Erina have become friends and rivals, with the reason for Ryokou's hatred of Erina revealed to the Erina's manager (and the reader). Ura Sakaki has returned to the world of kendo, intent on showing her rival Erina her strength again, but Erina has other ideas for her. The biggest arc that gets tied up though is the one the whole series was about; Tamaki.
Throughout this volume, Tamaki is asking everyone she knows why they do kendo. She has seen the intense emotions others like Erina, Ura and Sueno feel and still doesn't understand why. Each person she asks has their personal answers, but every time their "real" reason is never revealed to the reader. But these answers never help Tamaki. It isn't until she sees an interview with her mother doing kendo before she was born, and not only sees her mother, but hears her words that she finally finds her answer. The series essentially ends with this discovery and the airing of the Burnish Academy TV special, that they team gets together to watch.
But not really. There is an epilogue. The Burnish Academy kendo special was so popular, that there now a sponsored kendo competition that anyone,  not just high school students can participate in. Muroe High is there, as well as the special Burnish Academy team that includes Erina and Ura. And of course, their first match is against Muroe High, where Tamaki and Ura are set up to go against each other, and finally ends without showing the conclusion of it. It's a match to show how Tamaki has embraced her answer and in doing so has helped the rest of the team to grow.
This was a great way to end the series. There is time to reflect over everything that has happened over the last 13 volumes. Kojiro is one of the characters that grew the most, as he not only enjoys being a teacher to the girls, but takes pride in helping Tamaki find the path that will take her further on her journey through kendo. Tamaki is different by the end as well. She is more emotive, and more excited to participate. It's really gratifying to see her getting involved instead of going through the motions as she seemed to before. There was some fun moments too. The writer of Black Duran, Ushimatsu, is asked to do an all female show, which he refuses until he sees the Burnish Academy special. He writes the new show, which has a cast that looks a lot like the girls of Muroe High. And that silly cat is still popping up.
The last half of Bamboo Blade turned out to be an exciting and fun ride. With great characters and a very exciting last arc, it was a hard series to put down. and even harder to say goodbye to. But the end leaves you feeling good about where the characters are and where they are going. Kendo isn't going to be just some 3-year stint for them. It's something that they are going to take with them and practice for the rest of the lives, and that is a great feeling. Bamboo Blade is the perfect sports manga for people who hate, or think they will hate, sports manga. I highly recommend it.