You'll start to notice reviews in the Kidlette catagory. These are reviews of manga written by my two daughters. I'm not editing them other than correcting typos, so you're getting what they think. Finally find out if the kids like the kid stuff!
Now, just a bunch of random news items I want to comment on.
Hunter X Hunter is coming back….again. After being put on hold in December with no reason and no date of return. You really have to wonder if Togashi wants to write this series any more. I wonder if he's lost as much interest in writing it as I have in reading it.
Yahoo Japan Auctions announced it's top grossing auctions for charity for 2007, and at the

top of the list was the "Worlds First Official Tsukasa Hojo 'Life Size' 100-ton Hammer". It's a replica of one of the hammers that Kaori would pull out to use on Ryo from Hojo's manga City Hunter. It's 1.8 meters (5.9 feet) long, but only weighs 50 kilograms (110 pounds). How cool is that? There are time I wish I could whip something like that out. Especially at work.
From the "Dear God, Please No!" Department: Kodansha's Nakayoshi shojo magazine will be running the manga Disney's Magical Dance, which is based on a video/card game hybid Magical Dance on the Dream Stage. You collect the cards which have different Disney characters on them, and scan them into the arcade machine. Then, a la Dance Dance Revolution, play a rhythm game against the character. Do we really need another Disney game manga?
There are lots of one-shot manga coming up. Death Note and a Rumic Theater both have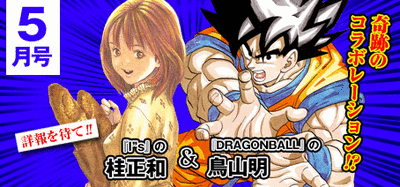 one-shot stories coming out, with color plates. Hitoshi Iwaaki, the creator of Parasyte from Del Rey also has a one-shot story coming out. And here's an interesting collaboration: Masakazu Katsura (Video Girl Ai) and Akira Toriyama (Dragon Ball). They're teaming up for a one shot for Jump Square. Not that we'll ever get to see any of these. Though, the Death Note and Katsura/Toriyama could make it into Shonen Jump USA as specials. And Viz really needs to re-release Rumic Theater UNFLIPPED. Hey Viz! Here's another VizBIG idea for you!
Shaman King is finally get an ending. The series, which ended abruptly in 2004, is getting a Perfect Edition, and creator Hiroyuki Takei will be drawing the "true ending" specifically for this edition. Think we'll get this for our run of Shaman King? Or will we have to wait for the VizBIG editions and have to get the series all over again?
From the "I Want This" Department: Bandai has an electronic keychain that simulates the sound and feel of popping bubbles in plastic wrap. Who doesn't love popping bubbles? It's a great stress reliever (for me anyway). Someone import this! NOW!!