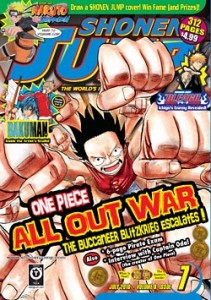 It's more of the same old, same old from Shonen Jump this month. I actually read this a few weeks ago, but just haven't felt that push to write about it. With June's end coming up closer than I thought, I figured it was time to get down to work and write this post. After once again wading through all the pretty color pages of SJ anime, CCG and video game "reviews", we finally get to manga.
Once again, SJ starts with the preview of Bakuman, and it's the last installment. Akito and Moritaka go to Moritaka's Uncle's studio/apartment, and Akito finally gets to see what a storyboard is. Even though they see how daunting the task they are taking on will be, they remain enthusiastic and even vow to get them manga made into an anime before they're 18! There's not much going on in this chapter unless you like strolls down memory lane. I'm still undecided on this title. The talk of Geniuses and the women in the previous chapter soured it some for me.  It will probably take at least a full volume to make a definite decision.
Bleach 's chapter is all about angst and background of Grimmjow. Orihime worries and wonders about Ichigo in his hollow state. We see how Grimmjow started on his road to become Arrancar, all the while Ichigo and Grimmjow keeps fighting. In other words, nothing interesting happened. I might have been interested in Grimmjow's past at one point, but now, I'm just bored. Some real story would be nice.
Ultimo has Yamato back in the past, reliving the day he found Ultimo. He remembers the previous time line, and notices differences and Murayama, the boy from the future transfers into his class. We get some more background on Dunstan (shown in a kimono with a spider on it) and Yamato has to choose between saving the world and Ultimo. The info on Dunstan doesn't help anything, though I'm interested in what Eco has to say to Yamato, but this series is still just a time passer.
One Piece remains on top of its game with Luffy and his band of escaped pirates all heading for Navy Headquarters to rescue Ace, where the truth of his past is revealed not just to the reader, but to the whole world, and man, is it an exciting reveal! This information tides the reader over until the moment everyone, including the navy has been waiting for; the arrival of White Beard. And he's got some plans for the Navy for taking his son. These are some great chapters of One Piece. I love learning more about Ace's background, and finally getting to meet White Beard, after hearing so much about him. And he's got a pretty impressive Devil Fruit power too.
In Naruto, the battle between Bee and Kisame finally ends, and Naruto learns the truth behind Sakura's less-than-convincing confession last issue. And Naruto's not too thrilled about it. But news of what happened at the summit means Kakashi must return to Konoha, and Naruto has an new protector in Gaara, and the cliff hanger is Danzo revealing his right arm in a fight against Madara. Naruto has lost its punch and fallen into a hole of angst as Naruto fusses over Sasake and Sakura. Not even the ending battle between Bee and Kisame could save these chapters. I'm just not feeling it with Naruto right now. I know it's set up for the next big battle, but it's starting to wear.  Something needs to happen.
And…that's it for the mag. No Spotlight chapters, and no news if there are any changes coming up in the issue. The last pages just pimp the battles coming up (or continuing) in the next issue. I guess maybe the Spotlight chapters weren't so popular? Are they staying with just 4 manga titles so they can keep the chapter count up for Naruto and One Piece? Anyone else think there's a Bleach speed up in the future? The anime just went streaming. Man though, has the page count dropped! They're pushing 312 pages for $4.99? Really? Not so long ago it was over 400! Does SJ have a future as a print magazine, or will it go the way of Yen Plus? It's loosing it's worth to me with every issue like this. I'd rather just get the One Piece GNs and not bother with the mag if it's gonna keep dropping like this.