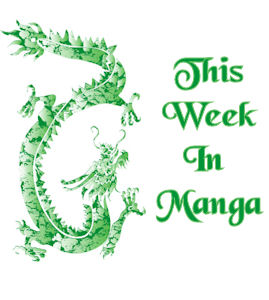 Continuing to Live Up to Their Name
It was first announced over the weekend at  The Yaoi Review and then found further confirmation by the end of the week. Digital Manga Publishing is looking into an online manga plan that would allow scanlators to do their work legally. President and CEO of DMP Hikaru Sasahara made it official by talked with ANN more about the online venture that would allow fans to translate manga legally, with payment coming after the book shows a profit. They have "1000s" of titles lined up, but no details beyond that. Scanlators are skeptical, many calling it spec work, and thinking DMP is looking to rip them off. What is there to rip off though? They are already doing the same work for free, only this time it will be with the blessing of the creators who work they are taking, and if they do a good enough job, they'll get more than online kudos. I just hope it won't be mostly BL titles.
Manga Roll
Crunchyroll, the streaming site that went legit, is getting some more funding, this time from a book publisher. Bitway, an e-book publisher in Japan, is looking to extend it reach and use it's know-how to get manga into the US. It has invested $750,000 in Cruchyroll, and will reportedly build a comic distribution platform within the site's framework. This idea definitely has potential. There certainly is a market for online manga, and with both cellphone and tablet technology continuing to improve, now is the time to get a platform in place. Just as long as it's not' platform specific, and is open to all OSes and hardware. No DRM would be nice, but I don't see that happening anytime soon, with publishers demanding the books be hobbled, so it takes pirates 25 hours instead of 24 to crack it, just to show they can.
Still Talking Scanlations
The coalition of manga publishers that was announced last week is still in the news. Debates about scanlations are still going on in comments of blogs and on forums. Manga Fox, one of the big scanlation sites (usually in the top ten of a google search for a manga title) has started pulling titles. They started with the Viz titles, but it soon snowballed as individual scanlation groups began asking for their own titles to be pulled as well, irrespect of whether it was licensed or not. Kind of like rats leaving the sinking ship, it seems no one wants to be around when the boom falls, if indeed it does. It's been rumored that the owners of Manga Fox, a Chinese company, is looking to negotiate with the coalition.
Of course there are plenty of cries of "Foul!" from readers of these sites. Not surprisingly, many of the commentors were well aware that what they were doing was illegal, proving education isn't the issue. Any they see the free ride is coming to an end. Others seem to think they are fighting the good fight and still shout out their sound bites for justifying scanlations. Lissa Pattillo of Kuriousity takes on many of these, and gives her own rebuttal. It's a long post that she obviously put a lot of time and thought into. It's worth the time check out. Personally, I think the topic is starting to run in circles. We know why scanlations exist and why sites like Onemanga and Manga Fox exist. What we need now is for publishers to deliver a solution, that greatly reduces the need for these. I'm hoping that is what eventually comes from this coalition. Not just cooperation to get the aggregators, but to work together to create something that will make everyone happy. A happy internet is a profitable internet.
Shonen Jump Price Hike?
This story comes from the comments of my own blog. If you're a regular reader, then you know I'm a subscriber to Shonen Jump magazine. I've made it a regular feature to talk about the latest monthly issue. A comment by John on my latest post pointed out something on the next issue; a price hike. It seems that Shonen Jump will be going from $4.99 to $7.99. With these difficult times, especially for publishing, something like may seem inevitable. But what makes this worse, is that along with the price hike, the page count is going down, from an average of around over 300 down to 250. There hasn't been anything on the net about this (that I could find), but then I'm sure this is something Viz doesn't want to advertise either. A look at future issues does show the price still at $4.99, but then they were still advertising for Shojo Beat after announcing it's end, so I don't put as much stock in pre-order pricing. Personally, if Viz does this, then my current subscription will be my last. If they were adding something like another series along with the price hike, it would be easier to swallow. But if it stays at the titles it's currently running now, no way. They should just go digital like Yen Plus.
NYT Best Seller List
This week's list looks a lot like last week's.Viz continues their dominance with 5 of the 10 spots belong to their books. But first, hitting its 13th week at #1 is Twilight: The Graphic Novel over on the Hardback lists. Those Twilight legions are strong! Over on the manga list, the top three spots still belong to Naruto vol 48, Vampire Knight vol 10, and Bleach vol 31 respectively. Hellsing vol 10 moves up 3 spots to #4, quite a showing for a Dark Horse title. Black Butler vol 2 continues to hold the #5 spot and is Yen's only title on the list. Yu-Gi-Oh! R vol 5 holds on to #6 as well, while Alice in the Country of Hearts vol 3 moves up one to #7 and is Tokyopop's only title. Del Rey's Negima! Magister Negi Magi vol 26 falls another four to #8. Naruto vol 47 returns to the list at #9 and the only debut title, Battle Angel Alita: Last Order vol 13 comes in at #10. Not surprisingly, the One Piece titles from last week have fallen off again. I just don't get why this series can get any traction. It's easily better than Naruto or Vampire Knight! I don't expect much change in the list for the next few weeks, as there hasn't been a lot of titles coming out. I think we'll see some old friends return as the shiny-ness of new release wears off on some of these titles.
Manga For Your Ears
Sci-Guys Podcast
Sesho's Anime and Manga Reviews
This Week at Manga Village