Chi's Sweet Home is the tale of a lost kitten finding a home with a young family. Despite not being able to keep pets in their apartment, they take the lost kitten in and try to find a home for her. Like most people who take in cats "temporarily" the kitten, who names herself Chi, wiggles her way into the house and hearts of the Yamada family.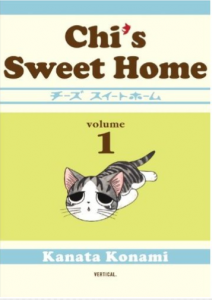 by Konami Kanata
Publisher: Veritcal, Inc.
Age Rating: All Ages
Genre: Pet
Price: $13.99
Rating:






Buy These Books
I'll say this upfront; I love cats. So this title already had a head start before I even cracked it open. Fortunately, I was not disappointed once I did started reading it. Chi, the main character, draws you in immediately. She is cute, but not the sugary-sweet, Hello Kitty kind of cute. She is cute the same way that a baby is. She is a baby cat after all, and acts like one. She is easily distracted (which is what gets her separated from her mother and siblings in the first place), trying new things, making mistakes, and learning from them. She and Yohei, the little boy who finds Chi, are very much a like in that way. Both being young children, they end up learning things together. Both Chi and Yohei learn to use the potty correctly.
Over the two volumes, Chi and the Yamadas learn to get along and live with each other. Chi slowly accepts the Yamadas as his new family, and she and Yohei get along very much like siblings. They play together and even compete for toys and food. It's not all fun and games though, especially with Mom and Dad. Mom tortures Chi with a bath, and scolds her when Chi tries out her claws on the couch. Dad is worse, taking Chi to the vet, which earns him her scorn for several days after. It is sweet to see how the parents come to accept Chi as well. Dad is saddened by Chi avoiding him after the vet visit, and Mom takes Yohei to search for Chi when she gets out and can't find her way home.
There is a lot of humor in this title, and much of it comes from Chi being a kitten and doing kitten-y things. From her liking the plastic bag more than the toys that came in it to chasing super bouncy balls, to playing with crumbled paper, Chi's sheer joy is infectious and hard not to smile at. Of course, the not so nice things that happen to her can be funny as well. Her reaction to her introduction to dogs, cars and the hair dryer made me laugh out loud. A lot of this has to do with Kanata-sensei's art. She puts so much expression into Chi, that even without the translation, one could figure out whether she was happy, sad, scared or angry.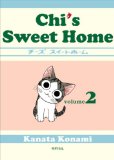 I can't speak for the accuracy of Vertical's translations, but I think the localization is done very well. Chi's speaking is portrayed with a little bit of baby speak, often making her sound like Tweety Bird, as she says things like "Fwuffy" and "gowing". Fortunately, it's used sparingly, so it doesn't distract the reader as much as it could. I also like how Chi's cat speech is also varied. She doesn't just say "meow". Her cat vocabulary also includes "miya", "mew", and "meowr" among others, giving the impression of different inflections, depending on her mood.
The art for this title is rather toonish, with the characters being drawn simply and without a lot of detail. Chi's cuteness can not be denied whether it's her usual wide-eyed expression as she goes exploring or it's her narrowed-eyed, fluffed out fur when she's upset. The simplicity of the art makes it easier to appeal to a non-manga audience, much like it's subject matter should. Vertical's editions are in color, done in a watercolor style, giving the books a gentle feel.
While Chi's Sweet Home was originally serialized in a men's magazine in Japan, it really feels like an all ages title. Chi is just so cute, it's hard to imagine a child, male or female being able to resister her charms. The chapters are simple and short, but also fun and sweet. Cat lovers will melt for this title too, as Chi reminds them how much fun kittens are, even if they do eventually grow up to be cats. Even non-cat people can get something out of this series. They can see why cat lovers love their cats so much, even if they don't get it.
Funny, and heart-warming, Chi's Sweet Home is a title the whole family can enjoy,and is easily one of the best titles to come out this year.