So what's a girl to do with the power of an immortal god? it's a tough decision, especially with the fate of Ouri's homeland at stake. She and Father Olivier are going to fight an ancient battle all over again. And if they win? It just might mean that everyone–from the gods all the way down to Olivier himself– will find what they've been searching for. If they don't… well, one way of the other, their journey is coming to a spectactular conclusion.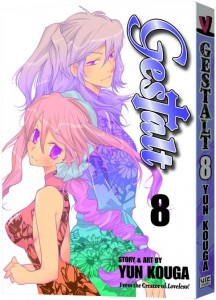 by Yun Kouga
Publisher: Viz Media
Age Rating: Teen+
Genre: Fantasy
Price: $9.99
Rating:






Buy This Book
[Contains Spoilers]
It's been a while since I read a volume that was a total let down, especially with being the final volume, but Gestalt managed to do just that. With the world doomed to end and powerful gods descending to earth to battle it out over said doom, you'd expect more exciting fight scene, and really, just more fighting! Instead we are treated to a lot of selfish talk and inward reflections, and a instead of ending with a bang, the titles goes out in a whimper.
Ouri, Olivier and friends have reached Gestalt, the island where the great beast is said to lay. It is also Ouri's homeland. He goes in search of his father to tell him he has the great beast inside him, and has for years. But, it seems Ouri was mistaken, as his father informs him, and reveals to him the truth. Meanwhile, everyone else is fighting a seemingly resurrected Father Messiah. Black Olivier is in charge, while Olivier is buried deal in his subconscious, facing the truth of his past and coming to accept Father Messiah's death. Everyone tries to fight Messiah and fails until Ouri arrives, in sexy underwear to save the day. True identities are revealed, and the world is saved. Yup. Pretty much just like that.
I was really hoping for more from this final volume. But all anyone does in this supposed action-fantasy is talk. The battle scene that takes up about half of the volume is mostly Olivier, as either himself or Black Olivier talking to Messiah, telling him he's going to stop him. There is some magic thrown around that stops Shazan, but the most exciting part of the battle is when Ouri's father joys the fray and gets thrown across the room and makes an imprint in the wall. And the final confrontation between Gestalt and Salsaroa? Non-existent. Well, that's not completely true. They do confront one another, but the best Salsaroa can manage is to threaten the body he inhabits, which is already did. And then poof, they're gone. And no one cared. It was just "huh, they're gone," and move on to the end. I couldn't believe this seemingly big build up to the confrontation would just go **poof**.
The characters that I had liked in volume 6 weren't so great in this volume. Ouri showed himself to be selfish and self-centered, something that I probably would have gotten if I had read the series from the beginning, but seeing it now, when the end of the world is nigh doesn't work so well for me. It was probably completely in character for his whole problem with letting Gelstalt in was that he didn't want to lose himself, and he still had things he wanted to do. Well, if the world ends, you won't get to do those things anyway. And it went on for pages, his whining like a kid. Any of the good I saw in volume 6 was sucked out in this one.
The ending of Gestalt seems to at least be consistent with the rest of the series. The scene cuts are badly done, especially with the fight scenes. If Kouga didn't want to draw fights, she shouldn't have done a fantasy series with a lot of confrontations. It seems every time she has a fight, she flashes over to some else for a while, and then returns to the fight, mostly at the pauses in the action. I can't really see anyone other than fans of Kouga really enjoying this title. I think the initial premise was good, but the execution was not.