It's been awfully slow in the news department lately. Maybe everyone is busy with holiday preparations. But fear not! All is not lost as the news this week features unexpected licenses as well as confirmations of some found in the wild. Half confirmations of rumors, and trying to reach out to the casual manga fan join regular features of best sellers, podcasts and roundups.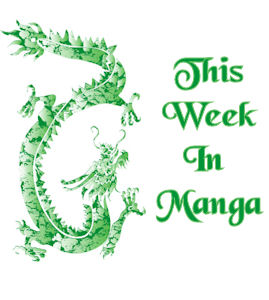 Called It!
Back at NYCC/NYAF, it was confirmed that Tenjou Tenge had been rescued from CMX. There was a lot of speculation as to who might have picked it up. Not a lot of people pegged it as a Viz license, but I did. And guess what? That's who got it! Early this week, Viz announced that they not only had TenTen (as it's known to by the fans), but that they were going to release it uncensored, and in two-volume omnibuses. I was rather surprised by the uncensored part, but they are giving it a mature rating, and it will no doubt be wrapped in plastic. The big question about this release though, is will the fans actually buy it? For years TenTen fans have been decrying the CMX release, and claiming they would buy an uncensored version. Well, here it comes. And yet, already there are rumbling from forums that this won't be good enough either. And you wonder why manga publishers don't want to take too many chances on fan requests?
Viz also confirmed some titles discovered on Amazon/Simon & Schuster earlier in the year. Blue Exorcist will be out in April of 2011 and will be part of the Shonen Jump Advanced line. Also announced was another Natsume Ono title, La Quinta Camera. It's another title set in Italy and features five young men living in an apartment house.
The Rumors Were Half True
Back in October, a rumor surfaced that Akira Toriyama would be returning to his seminal manga Dragon Ball, to create a new series called Dragon Ball AF. Well, this week, half of that rumor was confirmed. Dragon Ball will be coming back, but it won't be drawn by Toriyama, nor will it have the letters AF at the end. Super Strong Jump, a children's manga magazine announced last week, will have a spin-off of Dragon Ball, drawn by Naho Oishi, and will follow the misadventures of several of the characters from the original manga such as Goku and Krillin. It will be called Dragon Ball SD. I have to say that this sounds more interesting than Toriyama continuing Dragon Ball. I've always considered the first half of the series, with young Goku to be superior to Z, and see the characters as kids again will be fun. I'm sure this will be in line for licensing in the VizKids line.
Casually Reaching Out

Daniella Orihuela-Gruber asks an interesting and very pertinent question on her blog, All About Manga. Are manga companies doing enough to reach casual fans? She uses anecdotal evidence of some casual manga readers she knows, that if you aren't heavily involved in the mangasphere online, then you're missing out on a lot. And even then, publishers still don't do much to push anything but the most well-known titles than don't need the promotion as much. She makes some suggestions and asks readers to comment with more. I agree with her that the inbook ads are one good way. Viz's inside cover with releases in the same line as the current book are a good way to tell people about other titles in the line. I think companies did this better when manga was still up and coming. I can recall some of the things Tokyopop used to do, like list their available manga at the back of books (might not be very feasible now, but it was in 2005), and they also used to have color inserts that featured 6-9 titles. Back when I was still a casual reader though, the thing that got me interested in a title was reading a preview Either as a sampler book or in a magazine. But again, these are probably too cost-prohibitive. I don't know what the answer to this might be. Reaching the casual fan means going out of the hardcore circle, but the avenues for that have decreased dramatically. Perhaps bookstores are still the answer. If publishers could get their titles in email newsletters or on website front pages where casual readers go not necessarily to find manga, but can still spot it…?
Another License Found
Tanbishugi, the new miner of unannounced manga licenses discovered another one on Amazon. The Sacred Blacksmith is listed as coming from Tokyopop. It's based on a light novel series and got an anime in Japan last year. Funimation will be releases it in January. The manga will be available in June. It's about a female knight who meets a mysterious blacksmith who saves her. She then asks him to forge her a new sword, and so their adventures together begin. Judging by the cover of this series, it seems Tokyopop continues to carve a niche for itself as the fan service publisher. So they should totally rescue Nyankoi! It's got the fan service that they seem to love so much!
NYT Best Seller List
Small changes come to the list this week, but change can be good! It starts out with Naruto vol 49 holding on to #1 with Black Butler vol 3 trying, but unable to move out of #2. Bakuman vol 2 moves up one to #3 switching places with Negima! vol 28 which drops one to #4. D.Gray-Man vol 19 hold on to the #5 spot while Hetalia vol 1 makes a comeback by moving up three to #6. Alice in the Country of Hearts vol 5 debuts at #7 as Soul Eater vol 4 drops two to #8. Inuyasha vol 54 debuts at #9 while Black Bird vol 6 drops another three to land at #10. Tokyopop kicks a Del Rey title from the list to get two of these on, while Viz just switches a shoujo for a shonen. Viz is back to dominating the list at 5 titles, with Tokyopop and Yen Press tieing for second with 2 each. Gift Lists and best of lists will be coming out soon. I wonder if they'll be able to affect this list.
Manga For Your Ears
Manga Out Loud
Episode 21 – Drunken Dreams & Other Stories Roundtable
Spiraken Manga Reviews
This Week at Manga Village
What I've Been Reading