After Moritaka and Akito collaborate on a manga together, they venture to publishing house Shueisha in hopes of capturing an editor's interest. As much potential as these two rookies have, will their story impress the pros and actually get printed?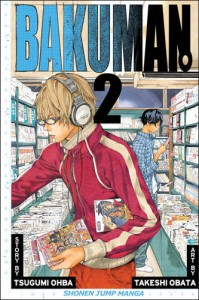 Story by Tsugumi Ohba; Art by Takeshi Obata
Publsiher: Viz Media
Age Rating: Teen
Genre: Comedy/Drama
Price: $9.99
Rating:





The boys have their first final draft down and meet with an editor from Weekly Jump. Hattori is impressed with potential and encourage them to bring their work to him. They submit for the next Tezuka award, and make it to the final eight but aren't chosen for an award. They are still encouraged to go ahead and try to get a one-shot in Akamasu Jump, a quarterly special magazine. In the meantime, they have graduated middle school and applied and started high school. Moritaka and Miho have started talking, first through notes in class and then through email. Akito has gained a girlfriend too, Miho's friend Mayashi.
I liked this volume better than the first one. It focuses on the process of getting a manga into a publisher and much of the hierarchy of the Weekly Jump offices. In their talks with Hattori, Moritaka and Akito learn how stories are chosen for the monthly contests, what publishers and judges look for in the Tezuka contest, and the biggest hurdle of all, placing in the reader survey. I found all of this information fascinating. Watching the boys process the information and adjust accordingly in the manga creation really drew me in. I really liked Hattori, the editor at Jump who talks to the boys. He is very grounded and straight-forward with them. He doesn't pull punches with either his criticism of their work, or their chances. He wants to take them on a slow and steady course while they boys are looking for fast and furious. This will no doubt lead to difficulties later.
This volume also finally introduces Eiji Nizuma, the "once-in-a-decade" genius manga creator. He is not what I expected. He is shown always drawing manga, as if he can't stop. He has a very juvenile attitude, calling out sound effects as he draws. His condition for coming to Tokyo to start a weekly series, is to have the ability to cancel any series he personally doesn't like. I found him dislikable from the beginning, and hard to believe he could create anything really great. Entertaining yes, since he seems to have the same mentality (or lower) as his audience, but nothing that could reach beyond it. He is obviously being set up at Moritaka's and Akito's rival, so he is probably not meant to be liked, but I don't think I would like him even if he wasn't.
There was no blatant anti-woman message in this volume, though there was one scene that is borderline, if you think about it. After Akito is suspended for fighting, Iwase and Miyoshi come to visit him. The "smart" girl, Iwase, is portrayed as the more unreasonable of the two. She assumed after shaking hands with Akito in their freshman year that they were going out (a stupid assumption since they never interacted). She has the "normal" person reaction of telling Akito he was making a mistake by trying to become a manga creator and that he will regret the choice. So, what was the point of this scene except to show how "dumb" (by Akito's standards) Iwase was. At least it was short and more subtle this time.
Overall, this volume was an improvement over the last. I really liked all the Weekly Jump references that were seen all over the book, especially in the Jump offices. There are posters all over featuring Jump titles, and even the cover has Akito holding Naruto, One Piece and Bleach volumes, all very clear what series they are. I'm actually looking forward to the next volume, to see if the boys can come up with a more Shonen Jump character and story and really get on their road to serialization.