Speed Racer: Mach GoGoGo volume 1-2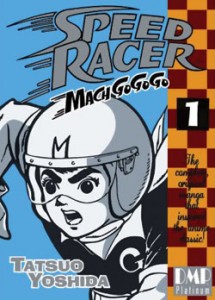 By Tatsuo Yoshida ♦ Digital Manga Publishing ♦ Teen ♦ Action ♦ $39.99
Rating:





Speed Racer is the son of famous race car engine builder "Pops" Racer. Speed wants to be a race car driver. Pops thinks it's too dangerous. Speed decides to enter races anyway with a car Pops designed and build for him, the Mach 5. With the help of his girlfriend Trixie, best friend and mechanic Sparky, and some interference by his little brother Spridle and his pet/friend Chim Chim, Speed enters dangerous races to prove to Pops and the world that he is the best race car driver in the world.
This title is an unabridged printing of the original Mach GoGoGo manga, and was published to celebrate the 40th anniversary of the series. The stories in the manga involve Race participating in some dangerous race where his skills as a driver are tested, and he always defeats the villain. most of these were animated in the cartoon, and reading them was like going back in time to my childhood. It was very nostalgic. I could almost hear the voices from the cartoon as I read the chapters, fast talking and all. I really enjoyed the trip back to my childhood.
There were some problems though. First and foremost, these two volumes were more Speed Racer than Mach: GoGoGo. All the names in the stories used the localized, goofy American names, such as Inspector Detector. I really wanted to see a more accurate translation, with the characters using their Japanese names. This was a big disappointment. Also, Tatsuo Yoshida took some serious short cuts, reusing not just panels, but entire pages of art and dialog. In the chapters with Racer X, "Challenge of the Masked Racer" and "Most Dangerous Race", the exact scenes with Speed and Racer X meeting are used, with the same dialog, to the point that I thought it was a printing error.
Overall, Speed Race: Mach Gogogo is a great piece of nostalgia for people in their forties, who remember sitting in front of the TV, sometimes without their parents knowledge or permission, and watching the cartoon. The hardback binding gives it a prestigious look. But that's all it's really worth; a piece of childhood to look back on and remember fondly.
Review copy provided by publisher
Project X: Cup Noodle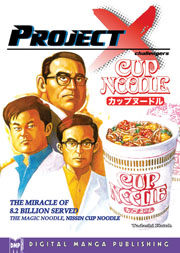 By Tadashi Katoh ♦ Digital Manga Publishing ♦ All Ages ♦ Educational ♦ $12.95
Rating:





In the early 1970s, the Instant Ramen industry was like a war zone with many companies competing for market share and profits. Momofuku Andou, director of Nissan Foods Corporation had an idea for a revolutionary product to make instant ramen fast, convenient and portable. He assembled a team of researchers to come with this product, starting with the container, through noodle frying and condiments. Despite the many hurdles they had to get over, Andou remained resolute and finally created and sold a product that is known the world over; Cup Noodle.
Project X: Cup Noodle tells a fascinating tale of determination and ingenuity. Unlike Project X: Seven Eleven, this title really focuses on the people as well as the product. Not only do we see the research team working on the problems of coming up with a new container or taste testing the noodles, but we also see how the work affects their personal life. We see Masahiro Sasaki having nightmares of being buried in containers, and how troubled Toshiko Matsumoto was that her new husband Kunio wasn't eating her cooking. These moments really made the title more personable, and the reader care more about the people and their project. The director of Nissan Foods, Momofuku Andou is shown as a real driving force for the project, but also as a fatherly figure to the research team. He always had some bit of advise, or would ask questions that would get the team's mind working. Sometimes he had to taunt a little, but everything he did motivated the team to create the product he envisioned. He wasn't idle either. Andou led the sales promotion on the "Pedestrian Paradise" in Ginza, and was just as enthusiastic there as with his team.
Project X: Cup Noodle is not only a story that is educational, it is also entertaining. The story moves at a good pace, never lingering too long on a problem. The team members are alway seen doing something such as experimenting with new techniques, and not just sitting around discussing the issues. I really enjoyed the epilogue, which listed all the disaster relief efforts that Nissan Food has contributed to with servings of Cup Noodle. I would recommend this title whether or not one is interested in business. It's a good story filled with strength and determination that succeeds despite the odds.
Review copy provided by publisher