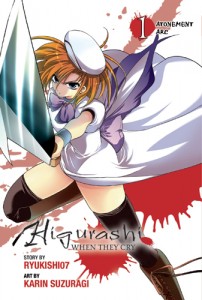 Welcome to the second day of links! Not as much blood splatter today, but there's still some gorey-goodness to get through!
Sean Gaffney of Suitable for Treatment looks at volume 15 of Higurashi: When They Cry, where he notes:
Karin Suzuragi's art is generally considered the "cutest" and most "moe" of the group of artists adapting the series, so this is particularly grotesque.
If I had more time, I would have tried to put together a "cute but creepy" post. Sean's Manga Bookshelf pal Michelle Smith of Soliloquy in Blue looks at a perennial favorite Uzumaki, noting,
Uzumaki has a much larger cast than Gyo, which prompted me to notice that Ito actually draws some really cute and realistic-looking female characters.
Despite the cuteness though she finds that:
Uzumaki is grim, gruesome, and a whole host of synonyms besides.
The Hooded Utilitarians continue their Drifting Roundtable with the next entry by Jason "Manga: The Complete Guide" Thompson. His essay, The Playland of Carnivores looks at the story as
…a wonderful "put yourself in their place" scenario, a survival horror story filled with the kind of details that would make Shonen Sunday readers look through their classrooms and imagine what objects they could use to survive Umezu's apocalypse:
It's a fairly long entry, but definitely read the whole thing. There are a lot of interesting details that may not have occurred to you before.
Finally, I look at some manga that features ghost-busting teams, and not the kind with jumpsuits, proton pack, catchy theme songs or ghostly mascots.
Until tomorrow!