Horror stories aren't all just about blood, gore and monsters. Many stories end with a twist, where something totally unexpected happens right at the end. Twilight Zone was very good at this, as in "Eye of the Beholder," where the woman's bandages are removed and her beautiful face turns out to be ugly in her world. Sometimes, the twists show people getting what they deserve as in "The Masks," where the characters must where ugly masks that reflect their ugly personalities, and when the masks are taken off, their faces are shaped the same as the masks. These kinds of twists are almost a subgenre in horror manga. It showed up so often that blogger John Jakala dubbed them "comeuppance theater", a term eagerly picked up by other manga bloggers.
Pet Shop of Horrors was among the first of these titles to be translated. The series features the bishonen Count D who knows just what pet you need. Everyone who takes a pet from Count D either dies at the hand of their pet, or is protected from someone horrible by said pet. Most of the stories feature animals getting their revenge on an uncaring humanity, but sometimes the animals themselves are just killers. There isn't a lot of gore, but there is a lot of death, which leads to Count D coming to the attention of the LA Police and one Detective Orcot, who is convinced D is responsible for all the deaths. It is complete at 10 volumes, but out of print with the demise of Tokyopop. There is also a sequel series, Pet Shop of Horrors: Tokyo which has D up to his old tricks, this time in Tokyo. Only 8 volumes of this series was released, and suffered the same fate as it's predecessor.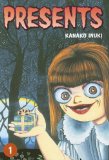 Presents was from the non-defunct CMX. It features a girl, Kurumi, who was never given any presents when she was young, so she never aged, and now delivers presents to others, the contents of which are usually what they deserve, not what they want. The volumes are a collection of short stories with Kurumi being the connecting factor. Kanako Inuki's art is cute but creepy, adding to the sense of dread the morality tales have already set up. The title is short at only three volumes long, but is also sadly out of print.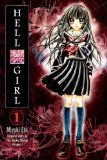 Hellgirl was from Del Rey and is based on the anime of the same name. There is a website that can only be accessed at midnight. If you can get to it, you can put in the name of the person you want revenge on, and if Emna Ai agrees, she will take that person to hell, but you will be cursed to hell as well when you finally die. The anime was created for teens and up, but the manga is written for a tween audience, with lots of melodrama, and not a lot of blood or gore. While it is rather satisfying to see bullies get what's coming to them, there is also a theme of Emna Ai trying to talk her "clients" out of wishing the revenge, or at least reconsider and find another way. The series is 9 volumes long, and is technically out of print, unless Kodansha decides to bring it back.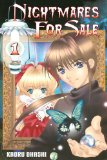 When Aurora, a publisher that specialized in shojo and josei manga started, one of their debut titles was Nightmares For Sale. This series featured a pawn shop run by a not-so-human bishonen Shadow and his opinionated female assistant Maria. They sell items that have the ability to grant the buyer's wishes, but usually at a very high price. These stories are darker and have a little more gore, as is it written for an older audience. The series was only two volumes and are out of print, as is its publisher.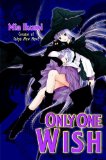 Only One Wish is another Del Rey title, that is in the same vein as Hellgirl, only this time, instead of a website, it's a cellphone, and one must text a dark angel. Got to keep up with the times, it seems. This title doesn't have the same gravitas of some of the other titles. The chapters are self-contained stories and aren't really all that dark, Most of them have a fairly happy ending. It's not a bad title, but only the first chapter has the "comeuppance theater" feel, and even then it doesn't do it very well. I think it was meant to be in that vein, but it just didn't carry it through, which may be why it only when on volume.
"Comeuppance Theater" can be filled with tropes that can make it seem boring or cliché. But with the right characters or set up, it can still be an enjoyable romp through the things we know we shouldn't want, but may secretly wish we could do. Enjoy these titles at your own risk.