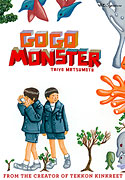 Like teenagers in an 80s slasher flick, the daily links have been dropping, but certainly not the quality!
The day starts off with the return of David Welsh, with another Re-flipped as he brings back a review of GoGo Monster by Taiyo Matsumoto. David wonders
Okay, I don't know if this comic counts as horror in the strictest sense of the term, but it's one of the first titles that came to mind when I considered this month's Manga Moveable Feast.
As far as I'm concerned, that is exactly the kinds of titles that should be featured in this feast. Those titles you first think of when someone mentions horror manga. Of GoGo Monster, David observes
The most interesting thing about GoGo Monster, the thing that grounds it, is that it's ultimately irrelevant whether or not the things Yuki perceives are real. It's Yuki's belief in their reality and the possible consequences of that belief that drive the drama.
The next entry in the Hooded Utilitarian's Drifting Roundtable is from Shaenon Garrity with her article "They Die Falling Forward." Shaenon makes this observation:
Umezu's manga often play on primal childhood fears, but in his hands they're not childish; they're old.
Rob McMonigal, over at Panel Patter offers up his Favorite Horror Manga, some titles which have been covered by others so far, some which haven't been seen or heard from yet. Check it out for an eclectic list!
Lastly, I have a tasty collection of "Comeuppance" manga for your perusal.