Masterless samurai Akitsu Masanosuke is a skilled and loyal swordsman, but his naive, diffident nature has more than once caused him to be let go by the lords who employ him. Hungry and desperate, he agrees to become a bodyguard for Yaichi, the charismatic leader of a group calling itself "Five Leaves." although disturbed by the gang's sinister activities, Masa begins to suspect that Yaichi's motivations are not what they seem. And despite his misgivings, the deeper he's drawn into the world of the Five Leaves, the more he finds himself fascinated by these devious, mysterious outlaws.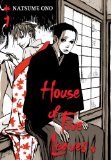 By Natsume Ono
Publisher: Viz Media
Age Rating: Older Teen
Genre: Historical Drama
Price: $12.99
Rating:





I love historical dramas, especially those set in Japan, so it should be little surprise that I like House of Five Leaves. But after reading the first two volumes, I find there is much more here than just seeing the characters in Edo-period costumes. House of Five Leaves is a character drama, with Masanosuke as the focus to introduce us to an interesting group of individuals.
Let's look first at the focus. Masanosuke is not your typical samurai. He has a strong sense of honor and the skills one would expect from one born in the samurai class. It's his demeanor that makes him so different. He is very shy and doesn't have a lot of self-confidence. He walks slouched over, making himself appear smaller than his true height. He doesn't like confrontations, and when faced with an audience, he gets stage fright and runs away. This last trait may have a lot to do with why he is like he is.
So it's little wonder that he looks up to Yaichi, a man with a lot of self-confidence, and who can talk himself out of a confrontation. He moves through the world with an ease that Masa envies. He is also a very private and mysterious man. No one in the group knows much about him, and that just intrigues Masa even more. By the same token, Yaichi is amused by Masa's seemingly contradictory nature. He chooses Masa at first because he knows his nature and honor will keep him from reporting their activity. But the timid samurai quickly intrigues Yaichi, who then tries to get Masa to join their gang.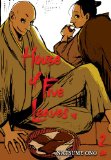 While Masa fence-sits about joining, he is slowly drawn in, both by Yaichi's machinations, and by others in the gang. Okate, a beautiful woman who has known Yaichi for a long time, is kind and patient with Masa. Umezo, the owner of the izakaya where the gang hangs out is gruff toward Masa at first, but warms up to him slowly, though his daughter Okinu likes him from the start. Matsukichi is the loner of the group and isn't too impressed with Masa, though he goes along with Yaichi's decision. An unofficial member of the gang, Goinkyo, helps out by letting them hide their hostages on his farm. He also helps out Masa, letting him stay with him when he falls ill, and tries to warn Masa away from Yaichi and the gang's activities.
But even as Masa is drawn in by his new "friends" so it seems members are drawn to Masa. Both Umezo and Goinkyo tell Masa about their connection to each other, and why Umezo continues to work with the gang even though he doesn't need the money. Both comment on how they talk too much when telling it all to Masa. Neither intended to tell Masa so much, but there just seems to be something about him that makes people want to unburden themselves. Perhaps it is the same thing that Yaichi finds so fascinating about Masa.
I really enjoyed these first two volumes. The characters are interesting, and the mystery around Yaichi is intriguing. Just like Masa, I want to find out more about him and his past, as well as that of the rest of the gang. I really like Masa too. He isn't arrogant like many of the other ronin seen in Edo. And he likes cats, so he has to be a good person. The old Edo setting
Ono's art is very distinctive. The facial expressions of her characters are very revealing. It's easy to tell what they are feeling or in some cases thinking. I really like the way she does the eyes. They can be big, or droopy. They can really define a character. She also has a knack for making older men look rather attractive.
House of Five Leaves isn't a story filled with action or intrigue. It's a slow-moving story with a lot of talking. But don't think for a moment that's a bad thing. The characters are engaging and the historical setting just adds to their charm. Add an immersing story and you've got a gratifying reading.