When a little boy brings home a dinosaur egg, the cat of the house isn't too keen on her new reptile roomie. But after a few weeks of showing the ropes to the new baby, Kitty and Dino form a fast friendship that transcends species!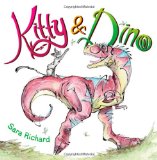 By Sara Richard
Publisher: Yen Press
Age Rating: All Ages
Genre: Picture book
Price: $16.99
Rating:





"It's adorable."
When I got Kitty and Dino in the mail for review, my youngest daughter took it and paged through it. When she finished, she handed the book back and asked me, "Are you going to review this?". I answered, "Yes." She replied, "Then you have to say it's adorable!" So I did. And she was right. This book is absolutely adorable in both story and art.
Kitty and Dino is a picture book and meant for young children and emerging readers. The story is very basic. A young boy brings home a dinosaur egg he found, which promptly hatches in front of the family cat. Kitty avoids the intruder at first, but the two bond over the most basic of needs; food. Soon, they become close friends, with Dino acting more like an overgrown cat with scales. They frolic and play, chasing butterflies and gazing at the stars, and promptly return home for their next meal.
It doesn't sound like much, but Sara Richard's art really tells the story. Her portrayal of Kitty's first meeting with Dino is spot on as any cat owner can tell you. You almost feel sorry for the hatchling, a little ball of fluff with a scalely head and feet sticking out trying desperately to get to his presumed "mommy." There are so many cute and funny moments in this book. Watching Dino try to stretch like Kitty, or scratch on a tree with his short, little arms was very funny. They surprise a momma bird high in a tree when Dino gives Kitty a boost, and seeing Dino try to rub on the mother's leg like Kitty just couldn't keep the smile off my face. It was really sweet seeing Kitty wash Dino's fluffy back after he tried and failed to copy her.
Richard's art is not only expressive, but also beautiful to look at. The art is very stylistic. Kitty is long and sleek, as one would expect of a Siamese, but Richards adds lines and other design elements that make her look like a Japanese ceramic figure. Dino is gorgeous with his shades of red, pink, blue and green. She also gives him some sparkles, making him look like he's full of stars. They both look other-worldly, but at the same time have warm and sweet faces. It's hard not to love them. The whole book feels magical, which just adds to it's over all charm.
I really can't say anything but good things about Kitty and Dino. It's a fun, sweet book that both kids and adults will enjoy. Children libraries and collections should seriously consider adding this book to their collections. I know I'm keeping mine. I'm in no hurry to be a grandparent, but this is definitely a book I will want to share with my grandkids. My daughter was right. There really are no two better words to describe this book other than "It's adorable."