The first of the heaven-sent bottles is revealed in these pages. No less gripping: the dramas of memory that unfold as Shizuku helps out an amnesiac painter, Chosuke hears from the French lady of his unrequited longings, and Miyabi meets a former classmate turned newly-rich snob for whom wires are but brands.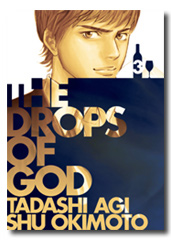 Story by Tadashi Agi; Art by Shu Okimoto
Publisher: Vertical, Inc.
Age Rating: Older Teen
Genre: Food/Drama
Price: $14.95
Rating:





I wasn't intending on reading The Drops of God. I don't have any interest in drinking any kind of alcohol, so a manga all about wine didn't sound like something I would like. While the more outrageous descriptions of the wine intrigued me, it sounded just a little too out there. But when presented with the opportunity to check out a volume, and it being included in this month's Manga Movable Feast, I decided to give it a try. I was going to write in this review about how I enjoyed the title, but ultimately didn't think it was for me. Upon further reflection, I have to say my initial thoughts are wrong.
I don't have a problem reviewing a title starting at a volume other than 1. And while this volume is the third in the US, it is an omnibus of volumes 5-6 of the Japanese editions, so the story is well underway. But I didn't have any problems jumping in. The fairly simple premise of two sons competing to inherit their father's fortune by identifying 13 wines as described in his will makes it easy to pick up the story at just about any point. But that doesn't make the chapters any less compelling or the stories they are telling. Many of the chapters in this volume involved wine and the memories it can awaken, or feelings it can help put to rest. While I thought the stories were well-written, I don't think they would have worked as well without Shizuku and his dramatic descriptions of the wines he tries.
Shizuku is the protagonist of this title. He is the born son of Yutaka Kanzaki, the world renown wine critic and collector. Shizuku resented his father's love of wine, and as a result went to work of a beer company. But all his years living with his father didn't go to waste. Shizuku has a seemingly innate ability to "see" the true nature of a wine and describe it in dramatic terms, like telling a mini-story of the wine's flavor. He's a twenty-something with a rather go-lucky attitude, and doesn't look too far into the future. He is at a serious disadvantage in this wine-identifying competition, since he has scorned the drink for so long. But with the help of his friends and co-workers in the newly developed wine division at the beer company, he is starting to put his innate talents to work.
And he works his magic well. Every wine he tastes transports him to another world richly illustrated for the reader to experience with him. Because the bulk of this volume is about finding the First Apostle, a lot of the descriptions are similar as Shizuku narrows his choice down. But there are some really great descriptions later on as he and his co-workers search for middling wines comparable to brand names to show a client that wine is more than that. Castles, queens and royalty at its highest and lowest really illustrate the differences they are looking for better than mere words could. It's really these descriptions that got this title's hooks in me and pulled me in. I can read and re-read them and still not get tired of them. Even his quick description of a white wine as a bride's veil was beautiful and charming. I could read a book of just these scenes compiled and be very happy!
His opponent is Issei, his father's recently adopted son. He is a well-known wine critic and studied under Yutaka for several years. He's also a big jerk. He looks down on Shizuku as a novice and resents having to compete with him. His attitude makes him underestimate Shizuku and lose the first round. He forgets the Yutaka's standards for the Apostles of "Heaven, Earth, and Man" for choosing his wine and must accept defeat because of it. I also don't like the way that he is willing to cheat by having his half-sister spy on Shizuku to try to keep his advantage. I'm glad he loses this first battle.
I have to admit being intimidated by this title somewhat. The wine terminology, and just trying to pronounce the names of the wines made me take a step back for a moment and consider that this might not be a title I would enjoy in the long run. I don't drink and don't ever intend to, so in some way, the descriptions are lost on me since I will never know how or if they are accurate. Unlike other foodie titles, where I could try the foods they describe if I wanted, wine will always be beyond me. This is my own choice, but in some ways it takes away a little of the enjoyment for me. It will always be just a dramatic description for me, abate a wonderful one.
I must concede, I'm hooked on The Drops of God. I didn't think I would be, even after finishing it the first time. But as I thumbed through it, searching for scenes while formulating this review, I just couldn't stop getting sucked into the descriptions and the explanations behind them. And I was just as taken the third time by them as by the first, and that's something that makes a great story for me. I will definitely continue to follow this series. Whether you're a connoisseur or a teetotaler, I would highly recommend this series.