An innocent sightseeing trip to Kyoto opens up a magical realm to shy high schooler Chikahito Takamoto. Visiting a legendary shrine, Chikahito stumbles into the mystical world of Hana and her comrades–and his immunity to their powers leads them to believe that he's no ordinary awkward teenager! Protecting our world from violent supernatural creatures, Hana and her team welcome the confused Chikahito–who isn't quite sure that he wants to be caught in the middle of their war!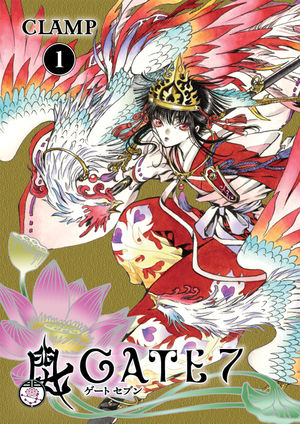 By CLAMP
Publisher: Dark Horse Manga
Age Rating: Teen
Genre: Fantasy
Price: $10.99
This series is my third attempt to find a CLAMP series I like. The first volume of xxxHolic didn't thrill me, but I did enjoy the last two volumes of Kobato enough to want to find the rest. Gate 7 is CLAMP's newest series  and one I thought would have a lot of potential for me. It's fantasy, the cover is very pretty with flowers and a pheasant, and it takes place in Kyoto. And I might still like it, but while this first volume makes the introductions, I really don't have any idea what is going on.
Gate 7 starts by introducing Chikahito, a high schooler with an overprotective mother, who has dreamed of going to Kyoto. When he finally convinces his mother to let him go, he stumbles into a battle between a young girl and two men and some supernatural creatures. Chikahito reacts in a most realistic way. He faints. He doesn't really understand what is going on, and the three don't explain much either, and try to erase his memories of them, but fail. Three months later, Chikahito is back as a transfer student, thanks to some magic Hana, the young girl, pulled off. He goes to live with Hana and her partners Sakura and Tachibana. We get some history of the Toyotomi clan with a supernatural spin and the volume ends with another battle.
There is a lot said in this first volume of Gate 7, but very little is explained. "Inou" users are introduced, but it isn't explained what they are, though through two battles it is shown what they do. Oni connected to historical figures and passed down through blood lines is actually a pretty cool concept, but it isn't connected with the Inou users other than they can see the oni. There was a lot of information thrown out for the reader, and some of it might be interesting enough to be a hook, but it comes off as random, and left me wondering more what was going on rather than what was going to happen next.
I did like the characters. Chikahito's confusion was not only realistic, it was understandable. I felt as lost as he did, and while relating to a character is good, I don't think it should be to this degree in this case. His enthusiasm and preconceived notions of Kyoto were fun and cute. Hana is very child-like, and nearly borders on annoying, but fortunately doesn't cross the line. Hana's partners Sakura and Tachibana are typical bishonen, with personalities that match their powers. Sakura is light, so he's more friendly while Tachibana is dark, so he's more serious.
For now, I'm going to take a "wait and see" stance with Gate 7. I'm going to need at least one, maybe two more volumes before I know for sure how I feel about it. But at least I *want* to read a few more volumes before making a decision, unlike xxxHolic, where I was sure by the end that it didn't interest me that much. Hopefully things will become more clear in the next volume. There are a lot of questions I want to see answered, though not all of them have to be done immediately. That's the difference between this title and xxxHolic for me. I want to know more about this world and it's characters.