Arr, it be that time o' year again. Aye matey, it be Talk Like o' Pirate Day! To shiver yer timbers, I be reviewin' a pirate manga that also be fittin' in ta da Movable Manga Feast this month. So grab yerself a bottle o' rum 'n find out about Wanted Arrrr…
In the Mediterranean at the end of the 17th century, former songstress Armeria disguises herself as a boy and boards the ship of the pirate Skulls–the man who kidnapped Luce, her first love. Captain Skulls is arrogant, violent, and a skirt chaser! And unfortunately for Armeria, he discovers she's a woman…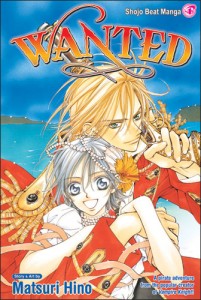 By Matsuri Hino
Publisher: Viz Media – Shojo Beat
Age Rating: Older Teen
Genre: Romance
Price: $8.99
Rating:





My introduction to Hino's work was through the serialization of her most current title Vampire Knight in Shojo Beat. I really didn't care for it, so when this volume came out, I had little interest in it. But, curiosity got the better of me, and I picked it up. I am slightly surprised that I enjoyed it as much as I did, but it is about as different from Vampire Knight as night is to day.
The thing I disliked most about Vampire Knight is the way drama oozed from every pore of every character. The characters in Wanted are the exact opposite. Armeria doesn't just sit around bemoaning her loss or wait for Luce to come for her. She take the initiative, disguising herself as a man and joins different ships searching for the pirates that kidnapped him eight years ago. Armeria is spunky and headstrong. She is determined to remain on the ship with Skulls until she finds Luce, and she doesn't let his barbs get her down.
Skulls, the pirate captain, tries to come off as a scoundrel and a ladies man, but he is essentially a good person. He saves Armeria several times, and only robs from nobles who take advantage of the people and then give the wealth back to them. He is like a pirate Robin Hood and his crew are his Merry Men. And it's a motley crew of merry men at that. They are never formally introduced, but there are a few that are featured in the chapters. His first mate, Second, is a big, shirtless, bald black man who knows his captain all too well. Doc is an older man who like the father figure of the crew, and Fourth and Fifth, crewmen skilled in sailing and swordsmanship. The names aren't very original, but they are all fun none the less.
There are three chapters about Armeria and Skulls, and a bonus chapter that takes place in Meiji Japan. I really enjoyed the pirate chapters. They were light and fun. There is swashbuckling, raiding, cannon fire, battles with the navy, and secret treasure; everything that makes pirate stories fun. I didn't care so much for the bonus chapter. It has the same feel as the Wanted chapters, but it just didn't work as well for me. It moved too fast for me to really believe it, though I did kind of like the characters.
The art is very Hino, with the girls having big eyes and the men all being bishonen. And the hair is everywhere. But I was fine with it in this volume. The characters were different and varied enough that it didn't get on my nerves. It was to have a beard, dreadlocks and even no hair at all!
Wanted is a fun romp for a romantic pirate adventure. I liked the relationship between Arto (Armeria) and Skulls. I love that they are always at odds. Even though Skulls' identity was pretty obvious, it's reveal didn't ruin the story. So matey, if ye be wantin' some good pirate romance, be pickin' up Wanted!