Asuka Masamune enjoys the girly things in life, such as sewing and cooking. But due to a traumatic event that happened with his father when he was young, he can't ever let his mother know about this side of himself. In fact, he thinks he can't let anyone know, and so he plays the part of a stoic manly man, excelling in kendo and reading Bushido. But there is one person in his class who does know about the real Asuka; Juta Tachibana. He is a mangaka, and has created a popular series using Asuka as the model for his female lead. In order to further his manga, he encourages Asuka get closer to Ryo, a new girl at their school that Asuka has fallen for. As his relationship with Ryo slowly develops, Asuka meets other otomen and learns he isn't alone.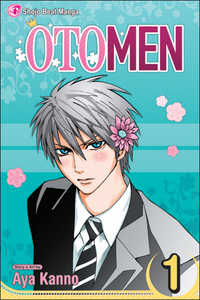 By Aya Kanno
Publisher: Viz Media – Shojo Beat
Age Rating: Teen
Genre: Romantic Comedy
Price: $9.99
Rating:





When Otomen first came out, I wasn't impressed by the premise or the preview that ran in Shojo Beat at the time. I also didn't care for Kanno's previous title Blank Slate, so I didn't have a lot of hope for this new one. A podcast review convinced me to re-evaluate and give the series a try. I'm glad I did. Otomen is cute and funny, and is more comedy than romance.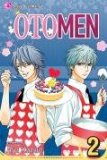 What really makes Otomen is the characters. When Asuka is first introduced, he looks the part of the manly man. Strong and silent, dressed in this kendo robes, he looks like he could have stepped out of a shonen manga. And then he starts to fall for Ryo, and his true self comes out. I love the scene with him after going on a "girly" spending spree and bringing home all kinds of crafty things and shojo manga. His despair over this is made more funny when he puts together a stuffed bear without really realizing his was doing it! I really enjoy the role reversal that Kanno has created with Asuka. He is very much the shojo lead, as all his inner thoughts and turmoil are shared with the reader. He even blushes a lot like most shojo leads. I really love Asuka's dichotomy of still being a man while having all of these traditionally female hobbies. If only more men could be like him.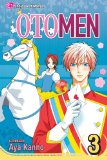 Surrounding Asuka is quite a cast of characters. Ryo, his love interest, complements him well. She can't cook, or clean, and is hopeless at sewing and crafts. She has a masculine outlook, and though she says she prefers manly men, she doesn't mind his feminine ways. She often takes the traditional male role such as being the brave one in a haunted house, or riding in on a white horse to rescue him from an arranged marriage. Juta Tachibana is a bit of a playboy, and has been orchestrating a lot of Asuka and Ryo's relationship for the sake of his shojo manga, "Love Chick." He will go to any length to get good material for his manga, including playing a rival for Ryo's affections, breaking and entering Asuka's potential bride, and staying outside the old school building in a blizzard so Asuka and Ryo can be alone in a romantic Christmas moment. He is also adament about not letting his real identity get out, and is even willing to dress up as a woman to keep it secret. I think in a lot of ways, Juta is the first fellow Otoman that Asuka meets.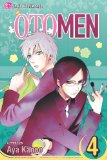 And there are more otomen out there. Asuka's self-proclaimed kendo rival, Hajime Tonomine turns out to have a secret passion for makeup and giving women makeovers. They end up working together when they are asked to help out at a women's event and don the costumes of members of the Harakiri Ronin Samurai Five, and then volunteer to give a makeover when the artist gets stuck in traffic. I love when manga references Tokusatsu shows, so I really enjoyed this chapter in volume 3, and was thrilled when they made a come back in volume 5. Then there's Kitora Kurokawa, who loves flowers too much. He is very tall and since he doesn't talk much is seen by the other girls as mysterious. His weakness is wanting to cover beautiful things in flowers, which includes Ryo, Asuka, Hajime and even Juta.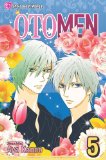 The story starts out focusing on Asuka and Ryo and Juta using them for his manga, but then shifts toward more with discovering more otomen. I'm glad the story did start to shift, because Asuka and Ryo's relationship really wasn't going anywhere by volume 3, so it really needed something more. But I did start to miss hearing about developments for Love Chick, and really enjoyed the chapter in volume 5 where Juta has to accept an award, and has to come up with a way to do with revealing he's really a man as his editor wants, and he's rescued by his idol mangaka. Kanno also does a good job of balancing Asuka's two sides, the masculine and feminine. He can be really cute sometimes when he blushing, and others thinking he'll make a good wife. But he's still a man and it still comes through when he leaps to action to save Ryo from a bull, a bomb, or a little boy from falling out a window. Asuka is the ideal man.
Otomen is a great series, filled a lot of great characters and funny situations. It's romantic comedy at its best, because it is so unconventional in its material. I look forward to reading more about Asuka, Ryo, Juta and the rest of the otomen. And since this title is available on Viz's manga site, I can just right back in where I left off without overloading the bookshelf. If you want some light, fun reading, definitely pick this title up.