In an ideal world where man and robot coexist, someone or something has destroyed the powerful Swiss robot Mont Blanc. Elsewhere a key figure in a robot rights group is murdered. The two incidents appear to be unrelated…except for one very conspicuous clue – the bodies of both victims have been fashioned into some sort of bizarre collage complete with makeshift horns placed by the victim's heads. Interpol assigns robot detective Gesicht to the most strange and complex case – and he eventually discovers that he too, as one of the seven great robots of the world, is one of the targets.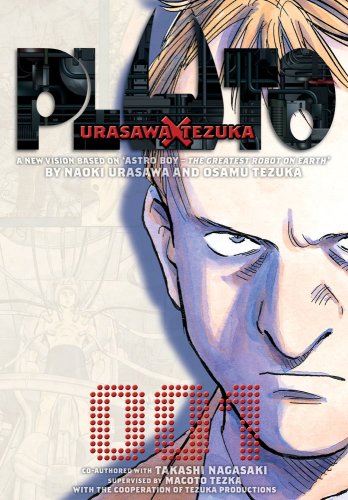 By Naoki Urasawa
Publisher: Viz Media – Viz Signature
Age Rating: Older Teen
Genre: Mystery/Thriller/Sci-fi
ISBN: 9781421519180
Price: $12.99
Rating:





I had read the first two volumes of Pluto back when it came out in 2007, and absolutely loved them. But the time it took for me to collect the rest of the volumes and newer, shinier titles put reading it on the back burner. Thankfully, this month's Manga Movable Feast gave me a good excuse to finally pull them out and read them. I'm glad I waited until I had the whole series before I read them. Pluto was an addicting and compelling read, and I don't think I could have handled the wait between volumes.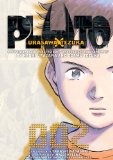 Pluto is a based on the Tezuka's Astro Boy story arc "The Greatest Robot on Earth", a popular story that influenced a lot of people and future manga artists, including Urasawa himself. It isn't a straight retelling of the original, but instead uses it as the foundation for a story that is multilayered and touches on several themes such as the consequences of war, the relationships between fathers and sons, and how emotions can create a person and shape their actions.
In order to tell this story, a strong cast of characters is needed, and that is exactly what we get. Even though this is based on an Astro Boy story, Astro, or Atom, which is his Japanese name, isn't the central character. The character that holds the whole story together is Gesicht, who was a minor character in the original story. As a detective, he has the means to search out the clues and put them together to solve the mystery, who is killing the world's most powerful robots. This story would be good if it was just about that, but Urasawa takes it to another level by adding a personal mystery to Gesicht. Something happened to Gesicht 3 years ago that neither he nor his wife can remember, but snippets come back to him in his dreams or in similar situations. The clues are very ambiguous at first, leaving the reader to think maybe it had something to do with the Central Asian war, but the truth, which isn't revealed until the end is much more tragic. I did not see it coming, but it was a great twist, because it just made Gesicht that much more sympathetic.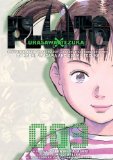 All of the robots we meet in the story are really well-developed, even if we don't see them when they are alive. The story starts with the death of Swiss robot Mont Blanc, but through the memorial that is built for him, we can see how much he was loved by everyone whose life he touched. North No. 2 of Scotland gets the whole second half of the first volume dedicated to his story. It's a bittersweet tale of a military robot who only wants to learn to play the piano. He never meets Gesicht or knows of the danger, but he still goes off to face Pluto. His final moments are heartbreaking. Brando is an East European robot that wrestles professionally, and has a large family. He takes on Pluto, transmitting the data to Gesicht and the others, hoping it will help the investigation. Hercules, from Greece, is in some way the opposite, and some way the same as Brando. He is a loner, more of a soldier. But he and Brando have a friendly rivalry in the wrestling ring. Hercules comes the closest to defeating Pluto, but his power isn't enough. Epsilon is a peace-loving robot from Australia who refused to participate in the Central Asian war, and was called a coward for it. He is very powerful, but with a gentle soul. He proved his convictions though, when he faced Pluto on a rainy day, when he would be at his weakest, to save one of the war orphans he was raising.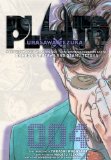 Atom, with his sister Uran, faces Pluto fairly early, and is believed to be dead by the world, but is physically repaired by his creator, Professor Tenma. He does not regain consciousness however, until the final volume. While Tenma abandoned Atom for not being enough like his deceased son, he couldn't let him die either. Their relationship is just one of the many between fathers and sons that is seen throughout the series. Sahad, the robot son of Professor Abullah, the scientist from the Persian Monarchy, becomes the instrument for his father's demand for revenge as Pluto. Even though he is a peaceful soul, he does as his father asks and destroys the 5 of the 7 robots. Adolf Haas, the younger brother of a robot killer, and himself a member of a robot-hating group that tries to kill discredit and kill Gesicht, hated robots because of one arresting their father, and ultimately losing him because of it. The love between a child and parent is shown to be a powerful thing. When one is lost, it can lead to even more powerful emotions; sadness, grief and hatred.
This capacity for hatred becomes an important element in the story, as it motivates so many of the characters either directly or indirectly. Tenma believed a strong emotional bias was needed to awaken an AI that can't regain consciousness. Each time he did it, he used hate. This emotional bias not only awakens the AI, but also brings the AI closer to being human. They gain the capacity to lie, not just to others, but to themselves as well. They formulate the equation for an Anti-Proton bomb, a weapon of mass destruction. I thought it was sad that of the power emotions Urasawa could choose from, he chose hate to be the pivotal one. It's like he's saying to the way to becoming human is to be able to hate.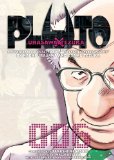 There is a strong anti-war theme through this book as well. The Central Asian War was fight by robots, but even their AI, advanced or not, was affected by it. North No. 2 is seen to be having nightmares from his time on the battlefield. Hercules told a story of one robot he worked with who was constantly washing his hands, an allusion to Lady MacBeth trying to wash the blood off of her own hands. There are also not so subtle finger-pointing at America. The Central Asian War has a lot of parallels to the Iraq war. The Central Asian War was started at the urgings of one country, the United States of Thracia, claiming weapons of mass destruction were being created despite little evident being found to support it. The leader of the Central Asian Monarchy also looks more than a little like Saddam Hussein. The theme isn't overpowering, but it is always there, lingering in the background.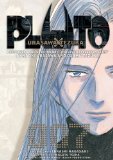 Pluto is one of the best manga I have ever read. It is short comparatively at only 8 volumes, and tells a complete and compelling story. It is very tightly written, with few if any extraneous scenes. It has a lot of the twists the Urasawa is known for. He sets them up well, and executes them perfectly. I loved the epilogue at the end. Brau 1589, the first robot to kill a human plays an important role throughout the series, always taunting, seeming to already know everything, but at the end, showing something other than ridicule. I also really enjoyed how the robots were portrayed. It didn't matter if they looked human or like a robot from the 50s-60s, they were all full-fledged characters. From the wife of the patrol bot Robbie, to Gesicht's wife to the robot boy Ali Gesicht met in Persia, how they looked didn't make a different to how you felt about them as a character.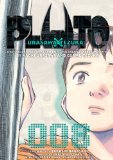 The art for this series is great. It is definitely Urasawa's work, but Tezuka's designs are all there. Atom with his hair sticking out like points. The broad face and large nose of Professor Ochanomizu, and the lanky body of Professor Tenma. You can see Tezuka's hand in their designs, but with just enough of Urasawa's more realistic touch to make them his own.
If you want to try out a Naoki Urasawa title, then Pluto is the best place to start. It's length makes it a quick read, and it's content will keep you glued to the pages until the end. The ending itself has that sense of finality that leaves you satisfied , although that doesn't mean I wouldn't want to revisit any and all these characters again. Do yourself a favor and read this series. You will not be disappointed.