In 1969 a group of boys built a secret base out of dried grass in a field. There, they came up with a story about an evil empire and the heroes that would stop them. They wrote in a notebook called The Book of Prophesy. 27 years later, events in the book start to come true. In 1999, the boys, led by Kenji Endou, have come together to try to stop the evil empire led by "Friend", and their battle comes to a head on New Years Eve.
Fifteen years later, in 2014, the battle with Friend begins again, with a "New Book of Prophecy", this time led by Kenji's niece Kanna. Jump ahead again 3 years to the Era of Friend 3 and it's like 1971. The battle is taken up one last time.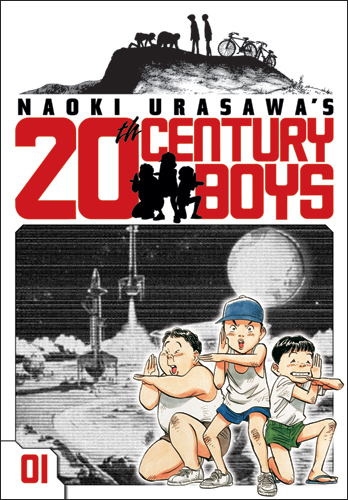 By Naoki Urasawa
Publisher: Viz Media – Viz Signature
Age Rating: Older Teen
Genre: Mystery/Thriller
Price: $12.99
Rating:





I started reading 20th Century Boys when it first came out and followed it for the first 5 volumes. My first review of the series wasn't very favorable. I found all the time jumping in them to be confusing and difficult to follow. After 4 years and a little more experience with time jumping stories, I decided to give the series another try. I had liked random volumes that I tried after the first 5, and I thought it deserved another chance. After reading the entire series over a week, I have to come to the conclusion that my original feelings about the series weren't wrong, just my reasoning behind them.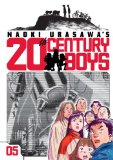 The first 5 volumes of this series is all about setting up the series and introducing all the characters, even if their importance isn't immediately made clear. It starts with Kenji Endou. He owns a convenience store that was originally his family's liquor store. He lives with his mother and is raising his sister's daughter, Kanna. He wanted to be a musician, but just couldn't make it. A few of his friends did as he did, and took over the family business. Maruo runs a fancy goods shop, and is married with kids. Keroyon runs a soba shop and is just getting married. He, Maruo and Kenji are in the same neighborhood. Yoshitsune is a mousey salary man who kept in touch with Kenji.  Yukiji is the only girl in the group. She was the strongest girl in school, often taking the twin bullies Yanbo and Mabo. She is a customs officer working with a drug dog. Mon-chan is also a salary man who has been working overseas. Donkey was a poor boy growing up, but became a High School science teacher. It is his death that brings everyone together, and starts Kenji on his search for who or what "Friend" is. The final fiend, Otcho doesn't appear until volume 4, where a personal tragedy changed him from fast-rising salary man to an enforcer called Shogun in Thailand.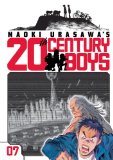 The time jumping is the worst in these first 5 volumes, as so much in past has to be shown and explained to set up where the bulk of the story occurs, 2014. The childhood friends are shown playing together and creating their Book of Prophesy in 1969, and then rediscovering it in 1997, as memories become clues and decide to fight back against the one that took their symbol, the hand with a raised finger with an eye, Friend. Friend's face is forever hidden either by shadows or a mask. Though clues are dropped in the past that make it clear it was someone who knew Kenji and his friends. Everyone comes together in 1999 to try to stop Friend from spreading a deadly virus, but Friend always seems to be one step ahead of them, and has spies everywhere. He hasn't been idle either, as he turned his religious cult into a political organization and part of the government.
We don't learn the events of the last night of the millennium for several volumes as the story jumps to 2014, where the Friend party rules Japan with an iron fist that seems like a glove. A new cast of characters are introduced to interact with the surviving childhood friends. Kanna is now 17, working part-time at a noodle shop. Yujiki is her guardian, and Otcho was captured and sent to prison. Slowly, over the next 10 volumes, we learn the fates of the other friends, and of Friend's next phase of the his plan, to become President of the World. But Kanna and the rest try their best to stop him again. Things we only got glimpses of in the past get fleshed out, especially in the distant past of 1969-71. From other characters with different perspectives, things become more clear, until by volume 15, Friend is revealed. Things don't go as he planned though, and his death, which should have been the end, is only the beginning of a new chapter, as Friend seems to return from the dead.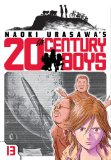 The final volumes take place three years later, in the Year of Friend 3. Kenji, who was believed to be dead, returns, shaggy and with a guitar on his back. He is always playing a song, that soon grows in popularity as people hear it, and is played on the radio. The new Friend has walled of Tokyo after another deadly virus races across the world. Inside the walls, he rebuilds Tokyo to look as it did in 1971. He intends to wipe out mankind once and for all with a final virus, sent by aliens. He is clearly insane. Kenji, armed with his song, leads the people outside the wall against their oppressors, while Kanna, Yoshitsune and Otcho try to find a way to save the people inside the wall. The series endings isn't really an ending at all. Nothing is really resolved, and while Friend is seemingly defeated, it can't just be the end.
I was with 20th Century Boys until around volume 15. I got over the difficulty of the time jumping in the first 5 volumes, and was with it through to the reveal of Friend. The clues were there, and I started to have a feeling to who it was around volume 10 or 11. Urasawa did a good job laying everything out, and revealing of things through different perspectives was well done. The twists that were revealed had good groundwork laid out for them, so when they came,it was more of a "a-ha!" moments than a "WTF?" It was frustrating to see Friend constantly being at least 2-3 steps ahead of Kenji and Kanna, and that his predictions always seemed to come true. But with the number of people he was surrounded by, and the conviction in with they believed in him, it was too hard to believe.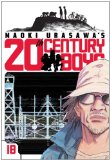 I had a harder time swallowing that the man who was Friend would have been able to convince so many people to follow him. He just didn't seem all that charismatic. I also find his total control of Japan, and respect gained around the world just from being the hero of "Bloody New Years" just as hard to swallow. No one is revered for that long. Even the Pope has his critics. I find it hard to believe that both Japan and the world would just lay down and let him, a man who doesn't show his face to anyone but a select few, take over. Friend is the kind of villain I have come to despise recently; one that can always get away from the good guys. Always smarter, always well ahead of them. There is nothing inspiring or great about seeing the good guys lose again and again. It just makes one frustrated and angry, and finally the story not enjoyable.
That's about how I felt as the story went into its ending arc. I was tired of all of Friend's taunts. The "a-has!" had become "not agains". As the background of the new Friend was starting to be revealed, it appears that he may have been seen in the previous flashbacks, but could be confused with another character since they both wore the same mask. This goes from "cleverly laying things out" to "cheap trick" in my book real fast. It was even more frustrating as I realized even though the end of the last volume was fast approaching, the end of the story wasn't. The end just made me go "But, what about–" with a long list of strings left untied including who new Friend was and what happened between Yukiji and the psycho woman Takasu. Nothing felt resolved, and I kind felt cheated for giving this title over a week of my time to read it.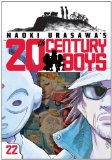 The series wasn't all bad. I really enjoyed everything with Otcho; his back story, his badass-ery. He was awesome in everything he did. I would have liked to have seen more of Kanna's mother, Kiriki, sooner. We only get glimpses of her that imply she's in with Friend, but her past is finally revealed in the last few volumes that proves that wrong. I also liked the manga artists Kakuta, Kaneko, and Ujiki. Their resemblance to Tezuka and the manga artists living in an apartment building in the 60s was great. Mon-chan didn't get a lot of time in the series, but he proved himself before he was killed. Yoshitsune really stepped in the 14 years since the first attack, keeping a resistance alive despite his timidness. The truth behind Haru Namio and how Maruo came to be with him was another well done twist. I love Haru's transformation with just a pair of sunglasses. Father Yatani, the ganster turned priest was a great character. He had a real presence, unlike Friend.
20th Century Boys is a long but compelling read. Once I had started, I just had to keep going on to the next volume. But as the series wore on, it was less about watching the characters and cheering them on, and more about just finding out who the hell Friend is and who he was to Kenji and his friends. This isn't a terrible title, but it is a frustrating one. A lot of other people enjoyed it, judging by all the awards it has won. I just wish the story had been more tightly written, and the ending more clearly defined. I'd advise reading this series, only with the warning of the frustrating times to come.