The Life of Akechi Mitsuhide ― Oda Nobunaga ruled the nation with a scorching force like that of the Sun. In his shadow was his faithful retainer, Akechi, who continued his unwavering service to him. Once sharing the same vision for the future, a change of heart sets their paths forever apart. What conclusion did Mitsuhide reach following the events at Hongan-ji? From a great author, comes a beautifully illustrated historical drama full of intensity!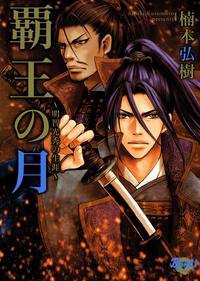 By Hiroki Kusumoto
Publisher: Jmanga
Age Rating: Older Teen
Genre: Historical Drama
Price: $4.99
Rating:





I love historical dramas, so when Jmanga announced this title, that not only took place in the Warring States Era, but also featured bishonen historical figures in a historical setting without any fantasy elements, I bought it sight unseen. While I enjoyed the title in general, it didn't really fulfill the "full of intensity" part promised in the description.
King's Moon details the life of Akechi Mitsuhide, a loyal retainer to the famous warlord Oda Nobunaga. The story begins with Mitsuhide already a retainer to Asakura Yoshikage. The retainer to Ashikaga, Hosokawa Fuijtaka, has come to Asakura to ask him to champion Ashikaga in his bid to be Shogun, but Asakura waivers. Mitsuhide, who had spent many years on reconnaissance, believes another man would be a better champion; Oda Nobunaga. Being a cousin to Nobunaga's wife, Mitsuhide gets an audience with him. Nobunaga agrees to the request, and with Mitsuhide as his retainer begins his quest to conquer Japan.
King's Moon is described as a historical drama, but it felt more like a docudrama. The drama was interspersed with historical facts. Nobunaga will be talking about a strategy, and then there will be a couple of pages of "And then this battle happened, these people were killed/committed suicide, and Nobunaga took over this area." Now, I don't think this is a bad thing necessarily, but it did reduce the "intensity." The dramatic scenes themselves weren't all that "intense" either. They were mostly of Nobunaga and Mitsuhide, or Mitsuhide and Fujitaka talking. There were nearly no battle scenes shown. While I do enjoy documentaries like this, even I found this title to be rather dry.
There isn't any character development to speak of. You are expected to know who most of the people are, but since it was written for a Japanese audience about historical Japanese figures, I really can't fault the title for that assumption. While the title is "The Life of Akechi Mitsuhide", it really only covers his time with Nobunaga. The two men are compared as the sun and the moon, hence the title. Nobunage is fiery and direct with his ambitions. Mitsuhide is more subtle, using Asakura, Ashikaga and even Nobunaga to see his ambitions. It's here that the story seems to drift into the realm of speculation. Kusumoto portrays Mitsuhide as a man looking for someone to bring peace to Japan, and he believes Nobunaga is that man. But the more Nobunaga expands, the more he is shown to be someone who enjoys the killing. Mitsuhide calls him the "God of Death" at one point in the story. It's at this point that Mitsuhide starts to have his doubts about Nobunaga bringing peace, but what tips him over into betrayal is when Nobunaga gives his castle, Sakamoto to another retainer. There is a definite disconnect between what Mitsuhide expected from Nobunaga and visa versa.
The art is very well done. All the men, and it is all men shown in volume, are bishonen. Nobunaga has a devilish look to him with his wispy mustache and goatee and piercing eyes. Mitsuhide is much more the hero-type, with the long hair and rounder, more reflective eyes. I must admit, all the pretty boys is one of the reasons I chose to check this title out.
King's Moon is an interesting title if you're a history buff like me. It gives a quick run through of the Nobunaga years leading up to the beginning of the Tokugawa period. It is all military victories and defeats broken up by bits of personal reflection. For the historical information, this title was great. As entertainment, not so much. There was drama, mostly with Mitsuhide, as he struggles with his choices and following Nobunaga, and the chapters had some nice closing, but overall it was too dry to really be called intense. The history geek in me loved it.