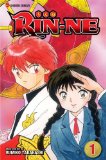 RIN-NE Volume 1

By Rumiko Takahashi
Publisher: Viz Media
Age Rating: Teen
Genre: Supernatural/Comedy
Price: $9.99/Free online
Rating:





Ever since a childhood incident Sakura Mamiya has had the power to see ghosts. Now her life has gotten a lot more complicated with the arrival of her mysterious classmate Rinne, who seems to know a thing or two about detecting ghosts himself!
Having enjoyed so far Takahashi's shonen titles since Urusei Yatsura, I was thrilled to hear that we in the US would not only be getting her newest, Rin-ne, at the same time as Japan, but it would available for free online to read.  Having now read the first volume's worth of chapters, I have to say my initial excitement may have been premature.