A military test accidentally sends a unit from Japan's Self-Defense Forces back in time to their country's feudal past.  When their actions begin to alter the present, a second unit is dispatched to retrieve them.  But Colonel Matoba, commander of the lost battalion, is determined to use his advanced technology to conquer Japan and change his country's destiny.  It's up to Kashima, Matoba's former protégé, to stop him.  But he only has a narrow window of time, and it is rapidly closing.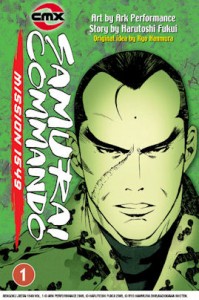 Samurai Commando:  Mission 1549
Creators:  Ark Performance & Harutoshi Fukui
Publisher:  CMX
Genre:  Action/Sci-Fi
Age Rating: Teen+
Price: $9.99
Rating:






Buy This Book
I love historical/time travel plots like The Final Countdown, and Zipang.  So, when I heard about this manga, I was definitely interested.  Based on a novel, for once we aren't traveling back to WWII to try to not change the outcome.  No, this time, we're going back to the Warring States Era of Japan, to just before the country was unified.
The volume opens with Matoba killing Nobunaga Oda, the man who was to conquer all of Japan.  Oops.  Well, not really.  Apparently Matoba's got some sort of plan.  Hell if we know what it is though.  And that's part of the problem with this volume.  It's all set up; going to find Kashima, and recruiting him, making the preparations to repeat the experiment that sent the first battalion back.  And in the past, it's basically the same, with Matoba preparing for future to come after him.  We get little hints here and there about what might be driving Matoba, but nobody, not even his own soldiers seem to know that he's up to.
While this might be good in a 3-4 volume series, this title only has two.  So everything HAS to be resolved in the next volume, and that makes me think things will get rushed, and in a story like this, that's not good.  This story is really about Matoba and Kashima, their relationship in the past, how they've changed since parting, and what are they going to do when they meet again.  The sci-fi elements of "the changing of the past will affect the future, and the world as we know will disappear" is just there to get them back together. But with what we've seen so far, we don't know enough about either to really make any judgments yet.  And with only one volume to go, I don't see how we really can.
The art in this volume is very clean-looking, but I was put off my the larger use of grey tones.  Being used to dark inks in other books, the lighter grey made is seem…unfinished, like the inker was just skipped.  I got used to it after a while, but it was really distracting at first.
I have to give CMX props for coming out with a manga like this.  It is very different from the shonen/shojo fare that we get inundated with.  So seeing a story with a more mature plot and real sci-fi elements is really refreshing.  And I do have to admit that I am intrigued to find out what Matoba's plan is.  I'm just worried that with all that's been set up in this volume, it won't all be satisfactorily resolved in the next.  But, it's piqued my curiosity enough want to see it through.