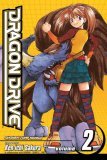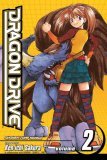 Dragon Drive Volume 2
by Keiichi Sakura
Published by Viz Media
Genre: Fantasy, Gaming
Rating: All Ages
Grade B
Storyline
Reiji, recalling the events from last battle, wants to train so he does so in a secret training room that Agent L, the female associate that watches the battles and presents who is in the game, shows him. He trains there, determined not to give up. Soon he starts using class time for naps, and also starts avoiding Yuniko. Yuniko is starting to get worried when she sees Agent L and Reiji walking together down the halls. She gets jealous and follows with Hagiwara being dragged away by her. When they enter, a crazy dragon appears and attacks them. Reiji simply defeats the dragon, leaving his friends in amazement. Later, they're having Summer Vacation when a mysterious girl comes and takes them from Dragon Drive to some place mysterious.
Review
Reiji and Chibi train and sync together so much, Reiji is able to control Chibi's power. Then comes a surprise which twists the story up. It keeps the reader going, giving them motivation to read more. It's happening to me right now. My brain is telling me "Read more Dragon Drive!"I simply CANNOT wait for more.
What I liked about it
I liked how Reiji could easily control Chibi's power. He could take down a dragon in a few simple hits! Amazing, it was simply amazing.
What I didn't like
Absolutely nothing. I cannot think of ONE THING that it does not have.
What you could do to make it better?
Look up one statement.
Is this suitable for children?
Yes. The most simple answer, yes.