One of the announcements made at this year's Comic-Con International was the live-action production of The Kurosagi Corpse Delivery Service by Dark Horse and Universal. (Actually, I seem to remember some talk of this a couple of years ago, but regardless, it is good news.) Does the story of a rag-tag group of Buddhist diviners and dead talkers trying to make a living delivering corpses to their proper final resting places merit a big screen release?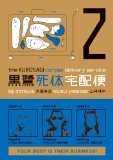 Written by Eiji Ōtsuka; Illustrated by Housui Yamazaki
Age Rating: 18+
Genre: Horror
Price: 10.95 USD
I didn't expect so much blood…Did you?
Summarizing it like that, it seems like it might, but I am even more hopeful that the news of the big screen production will bring people to this excellent manga series now. Nine volumes are available now from Dark Horse Manga, but I realized that we have only a spattering of reviews here at Comics Village, so I am going to try to fill in the blanks as I painstakingly reread some of the earlier volumes of The Kurosagi Corpse Delivery Service.
The first volume of Kurosagi is not my favorite, but it is the necessary introduction of thankfully small band of main characters who are poor college students at a Buddhist university. Joined by their unique abilities, this group of sharp-tongued young men and women create their corpse delivery service in order to return misplaced bodies to their proper burial grounds. The real trick is getting paid. Kuro is the main character the reader associates with, and despite his shaved head and ability to communicate with corpses, he is the most grounded in reality. His cohorts in the corpse delivery service seem a bit more eccentric, and a their comments often bring an oddly satisfying comic relief in stories that really start getting dark and graphic in this second volume.
And what a volume it is. Storming out of the gates of the sometimes cheesy first volume, this second volume contains only one long story which is paced and delivered perfectly. The humor is a bit more refined (but gets better in later volumes) but the depth of the horror this volume brings really sets the stage for what's to come. This is also the volume where we find that the brains behind Kurosagi, the bespectacled and nipply Ao Sasaki, has some serious skeletons in her closet (another plot point that develops nicely as the series continues).
Carl Horn is the editor of this English release, and I can't think of a better choice to tackle this growing spiderweb of a series. I like how he keeps the SFX in Japanese, but has clear explanations for each frame at the end of the story. In this case it feels a little criminal to Housui Yamazaki's art. He is a perfect match with Otsuka's writing for this story, which Otsuka talks about in the notes at the end of this volume. I especially enjoyed Otsuka's own words that are best quoted rather than described.
"The Kurosagi Corpse Delivery Service is a story I created out of my desire to write an orthodox horror story. I thought it was odd how the walking dead had become such a normal sight in movies and video games – how much the idea of a zombie had been taken for granted. I wanted to get back to the fear any real person would feel, should death's work appear to be unfinished."
This is an ambitious but righteous goal, and it is achieved in spades in Kurosagi Vol. 2. What's nice about coming back to a series after reading later volumes is you have a new perspective, and I am more sold now rereading Kurosagi than I was the first time…and that is saying something. If you aren't reading The Kurosagi Corpse Delivery Service then what the hell are you doing?