When Viz Media first debuted their new website, SIG IKKI, a collection of seinen (young men's) and josei (young women's) manga titles aimed at older readers, Children of the Sea was the first comic to see its debut. Now that the first 8 chapters have all been released online, they've been printed into the first collection of the manga title, in a whopping 320 page Signature size book which looks more like a Pluto or a 20th Century Boys style publication.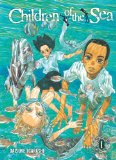 By Daisuke Igarashi
Publisher: Viz Media – Sigikki
Age Rating: Older Teen (16+)
Genre: Mystery
Price: $14.99
Children of the Sea is at its heart, a character driven mystery. It hinges on the fantastic and strange myths of the sea, and three children all connected by a "Ghost of the Sea." Ruka is a young, brash, tomboy who can't really express herself through words, and gets in trouble playing handball and gets kicked off her school's team right at the beginning of their summer break. In her sulking, she decides to travel to Tokyo, and meets Umi, a strange, glowing boy, who is connected to her father, who works at an aquarium in Tokyo. Soon, she also meets Sora, and finds out that both Sora and Umi were found in the sea, living there, raised by dugongs. The pair have adapted to the sea, and now have skin sensitive to the sun, and eyes that allow them to look around in the harsh salt water.
The mystery surrounding their life underwater is merged with tales of fish going missing in aquariums and rare high-pressure water dwellers coming to the surface. Sea-life from around the world is traveling to see… something. No one knows what. The three children are also pulled towards whatever it is.  The whales are singing new songs and whatever is happening, is happening around the world.
It's in this giant ocean of plot that Igarashi carves a narrative that moves slowly, building its ambient mood and eerie strength, without worrying so much about manga stereotypes, or even getting to the point. Details wash over the reader, much like how the tide washes over sand. It's an effect that cares mostly about the ambiance and less about structure. Clues about the mystery seem to be scattered throughout the piece, but there are never any "ah ha!" moments to speak of. This, of course, could turn some readers off, but for me, it was a stunning effect. Igarashi lets the characters breathe, and doesn't chain anything down.
Igarashi's illustration style is not altogether unrealistic, which is a change compared to most manga. His beautifully detailed ocean shots, fish, and landscapes are wonderful on the eyes. The animals in Children of the Sea are diligently rendered, and  the opening of Chapter Six and its giant whale sharks are breathtaking. The color pages at the beginning of the collection are some of the best art I've seen in a manga yet. Igarashi uses watercolor, and its splotchy, subdued effects to create beautiful ocean scenery. The illustrations themselves are choppy, and Igarashi uses cross-hatching in his pen work to pull most of the weight. The drawings lend to a more believable world.
At $14.99 US, this manga is a bit on the steep side in terms of cost, but it's worth every penny. Unlike most Viz Media manga, which now clock in at $9.99, the first volume of Children of the Sea has slick production values, beautiful color pages, and a whopping 320 pages of clean inks and high-quality paper. Like 20th Century Boys and Pluto, the high quality of the production make this book a real joy to read.
"There are demons in the sea," we are told by Children of the Sea, and the sea has a story to tell. If this beginning volume of Children of the Sea is any indication, it will be a marvelous story indeed.