Music has always been a powerful source of stimulation. Kyoichiro is a hot new pianist known as "The Conjurer of Melody" who possesses an extremely arrogant "bow before my greatness" attitude. So it's no wonder that Kazune, Kyoichiro's manager and lover, can't help but feel she is nothing more than his erotic plaything. Will she be able to prove to Kyoichiro rhar she is more than just an instrument of pleasure? OR will she continue to be swayed by his intense melodies of desire? An erotic romance that will stimulate your senses with the rhythm of passion!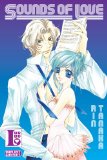 By Rin Tanaka
Publisher: Aurora Publishing – LuvLuv
Genre: Romance/Josei
Age Rating: M/Mature/18+
Price: $10.95
Arrogance that matches his musical talents, Kyoichiro is a popular pianist in this sensual tale of romance. Kazune, the ever doting girlfriend, has to manage both Kyochiro's professional career and her adoration for a man who at first seemed to care more about making beautiful sounds in the bedroom than making the beautiful maiden truly happy.
For me this was a great transitional title from the sometimes overly sappy shojo titles to a much more mature series that is geared more towards women. Within the first volume one is able to witness the bonds of their relationship taking shape from the first page to the last. In the beginning one can believe Kyoichiro to be a little on the cold side when Kazune is trying to bring forth warmth in their relationship.
This volume is the first of a three-part series of a very realistic take on relationship. It encompassed many of the emotions that one may face when in love, varying from jealous to intense passion. I appreciated how it was able to have such a broad scope of feelings instead of just sugar-coating the story with passion alone.
The tentative release date of the second volume is this upcoming Winter. I already pre-ordered mine as I can't wait to see what else is in store for Kazune as she accompanies her gifted lover Kyoichiro.