Not knowing it's the solution to her curse, Yako thinks that Rasetsu's quest for a boyfriend seems frivolous.  Nothing's trivial about Rasetsu's next exorcism, however, especially when she's suddenly overpowered by the emotions of the spirit!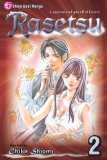 By Chika Shiomi
Publisher: Viz Media – Shojo Beat
Age Rating: Teen+
Genre: Supernatural Romance
Price: $8.99
This volume has more ghostly exorcisms that serve to bring Yako and Rasetsu together, despite themselves.  Kuryu's introduction and first day at the agency is shown, and another glimpse of Yako's guardian spirit makes an appearance, this time for Rasetsu.
The romance between Rasetsu and Yako takes a few more small steps forward in this volume.  An exorcism that hits Rasetsu too close to home leaves her vulnerable, but Yako says just the right words to bring her back.  The attraction between them seems to be growing, despite the verbal barbs they still toss at each other.  These feelings become more evident when the whole agency goes to an amusement park for another exorcism, though it seems to be more about play than work.  I really prefer this kind of romance, with the couple getting to know each other and their feelings developing through their experiences together, rather than the "love at first sight" type where one half of the couple must be convinced.
It almost seems like there's a love triangle forming, between Rasetsu, Yako and Kuryu.  He is always with Rasetsu and Yako on cases, and is very protective of Rasetsu.  At first it seems to be a brotherly protection, but in the flashback to his joining the agency, there seems to be more going on with him.  It will be interesting to see which way Shiomi decides to go with this.
What really keeps me drawn to this title, along with the slow romance, is the mystery of Yako's guardian spirit.  Shiomi only gives a small glimpse of the spirit, with only one appearance per volume.  She is always there to protect Yako when he has not other way out, and is usually protecting Rasetsu in the process.  She doesn't appear to be a rival to Rasetsu, though with Rasetsu's words in this volume, we can be pretty sure it is Yurara's guardian spirit.  Perhaps she is hanging around to help give Yako some closure?  Though, he doesn't seem to realize she's there.
Once again Rasetsu succeeds in providing some entertaining ghost exorcisms as well as some great character interactions.  Shiomi does an excellent job at weaving the supernatural with romance without being trashy, a rarity in stories nowadays it seems.