I will grant you any wish. But its outcome depends on you.
Tokyo Mew Mew creator Mia Ikumi takes a break from that title to bring a one shot that may be worth a look, especially for newcomers to manga or those wanting to get a decent read without feeling forced to buy into a whole new series.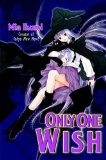 By Mia Ikumi
Publisher: Del Rey
Age Rating: 13+
Genre: Shoujo
Price: 10.99 USD
As I began reading Only One Wish I didn't realize it wasn't only a one-shot, but was a collection of short stories. By the end of the first story I wasn't wild about the characters, but finding out their story ended there made me warm up a little more to this title.
If you know the special way to get a hold of her, the "Dark Angel" well grant any individual a single wish. But if it was just that simple, what would be the fun? The clear underlying theme is "Be careful what you wish for." We are also reminded that no one lives in this world alone, and a wish that affects another might be countered.
Only One Wish feels a little like "The Monkey's Claw" meets Hell Girl, but Hell Girl is a title that I panned partially because it followed a similar pattern, but was NOT a one-shot. In these four stories Ikumi is able to knock out four pretty original stories (plus a little bonus shot) without wearing out the Dark Angel's welcome. The stories cover the gambit of originality and cleverness, but they are a nice distraction that don't require much from the reader. For that reason I think Only One Wish is a good introduction (for girls in the age group…though I think 13+ could probably be knocked down at least a year) or for those looking for a little shoujo fun.