One of the most used, and possibly most cliché phrases in the English language is "Hindsight is 20/20," that is, that everything is clearest when looking back on it. There are parts of a situation where you have missing information, where decisions that seemed like good choices turned out to be catastrophic. Even more frustrating, there are scenes, moments of our lives where we'd like to use our perfect hindsight to change. That fight in elementary school, that comment in high school, that one night stand in college. These moments that changed who we are for better or worse are some of the most vivid in our minds, and are the ones we'd most like to manipulate.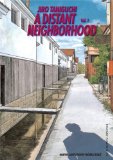 By Jiro Taniguchi
Publisher: Fanfare/Ponent Mon
Age Rating: Older Teen
Genre: Drama
Price: $23.00
While this idea has been toyed with in film (most notably, in the dreadful Butterfly Effect), nothing brings the concept to life more realistically than Jiro Taniguchi's A Distant Neighborhood, a two-volume affair that has been co-published by Fanfare and Ponent Mon. In this sweeping childhood tale, we meet Hiroshi Nakahara, a middle-aged man who, under the influence of a nasty hangover, misses his train from Kyoto to Tokyo and ends up on a trip back to his hometown. Visiting the grave of his mother, he asks this question – "Were you happy?" In some strange twist of fate, he is swept away to April 7th, 1963 to his hometown as a 14 year-old boy, 48 year-old memories intact (the book is set in 1998).
At first, Hiroshi doesn't believe what's happened. He acts as an observer, trying to keep a low profile and not do anything rash. Soon, though, he begins to act out, and in so doing, he begins to change his own past. He begins to fall in love with his old child's body, and pushes it to the limit, doing things better than he ever had in junior high and causing a bit of a ruckus with other people. He falls in love with his youth, and gets in fights, sneaks cigarettes and liquor, and attempts to take a female classmate out on a date. But life is not all fun and games for the time-warped Hiroshi. It seems that his trip has fallen at a time of great importance for his family. In being whisked off to the past, Hiroshi is transported to a time four months before his father inexplicably left his family after attending a business meeting. In this first volume, he takes it upon himself to find out why his father left, and rectify the past.
When I read through the first volume of A Distant Neighborhood, the first thing I thought of was Alex Robinson's genius Too Cool To Be Forgotten (previews of which can be found here), and it shares some very key themes with the American graphic novel. Both involve middle-aged men having somewhat of an emotional crisis, who reach back into time and find pieces of themselves that they had forgotten. They act in emotional ways, do things that their teenaged selves wouldn't do, and try to make changes to the way they've lived their lives. But the different character archetypes, cultural backgrounds, and time periods spread these two books, making each a unique take on a common theme.
Jiro Taniguchi, the author and illustrator of A Distant Neighborhood, is one of the more celebrated writers in Japanese comics. His art is nothing short of gorgeous. Detailed landscapes, characters, and backgrounds to the action give the reader something to get lost in. The book itself is also beautiful, oversized with high quality dust-jacket covering.The price is somewhat of a high number for most manga readers (clocking in at $23 US, double what a normal manga would cost), and the comic has been flopped to read in the traditional Western style. But, another cliché goes something like this – "You get what you pay for." This is particularly the case with A Distant Neighborhood. I highly recommend this book not only to manga readers, but anyone who loves comics. It is the perfect gift, and a perfect read.
(A preview of the book can be found here, at the publisher's website)