Publisher's description: Complex, powerful, and emotionally wrenching, not simple is a novel told in visual form by one of the most acclaimed creators at work today. R to L (Japanese Style). Ian, a young man with a fractured family history, travels from Australia to England to America in the hope of realizing his dreams and reuniting with his beloved sister. His story unfolds backwards through the framing narrative of Jim, a reporter driven to capture Ian's experiences in a novel: not simple. A story within a story, a book within a book, a tale about the search for family, for an emotional home.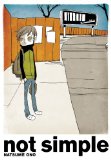 By Natsume Ono
Publisher: Viz Media
Age Rating:Teen+
Genre: Drama
Price: $14.99
I found this book very affecting, yes, but neither as brutally disgusting as Tucker Stone, nor as frank and "phenomenal" as Christopher Butcher seems to have. Instead, I fall somewhere in between.
When I first saw the cover image, I fell in love. Seriously, I probably drooled a little. And the look of the book is gorgeous. It's a great size, with subtle colors and line work on the cover unique among it's manga brethren. In fact, the interior art, the pacing, the characterization– it has much more in common with independent American art-comics published by D&Q or Fantagraphics of the last decade than it does with any manga, even the art-comics manga from D&Q, Fantagraphics, etc.
That's probably what drew me in, and, to be honest, sustained me, even as the difficult story seemed to be embracing dull, empty characters completely numbed to the entire world and their own suffering. Yes, it gets difficult. At one point, I considered returning the book to the store where I bought it. Thankfully, though, I held out.
This is a subtle book, and it's struggle is not necessarily an easily discerned one. Yes, the framing narrative is clunky, as many folks have pointed out, but necessary. The emotions and changes of the characters are as fine and fragile and the line work Ono uses to draw them, and you don't even realize what they've lost or become beaten by until sometimes it's too late. Which, ultimately, may be the point. Yes, a sad book, and not for the squeamish. And by squeamish, I mean that in an entirely non-manga way: there are none of the typical manga tropes here. No tentacles, no fan-service, no grotesque violence. In fact, none of the reactions we expect.
I think, ultimately, this makes these characters more real, and thus what they go through more scary to read. Thus, not for those of us who aren't ready to get slowly emotionally crushed. But in a way that you'll love. I promise.
Ultimately, I guess I feel like Shaennon Garrity. Ono's work is tremendous, and can only make me ache for what else she might produce in the future.