Penny-Rose, a stone mason in the Principality of Castaliae is summoned by the Queen. She asks Penny-Rose to marry the prince… but only for one year. To succeed the throne, the prince needs to marry a woman of "unimpeachable virtue." Startled by such a sudden request, Penny-Rose hesitantly accepts. Despite knowing he is to marry another after her, she is slowly drawn to the prince, and eventually falls in love…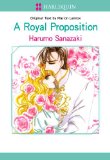 By Harumo Sanazaki
Publisher: Digital Manga Publishing
Age Rating: 16+
Genre: Romance
Price: 400 Points eManga / $3.99 Amazon Kindle Price
This manga adaptation of Marion Lennox's A Royal Proposition is brimming with roses and all the romantic clichés one is to expect from a Harlequin title. Working to help her siblings back in her homeland Australia Penny-Rose lives up to her name as being presented to the reader as a hard-working poor woman, she may not have much money her beauty and her kind heart is a truer measure of her value. While working as stone mansion for the royal manor she is approached one day by none other than the royal highness herself! This first meeting will turn Penny-Rose's life upside down and take her from being a lady of simple means to simply royalty itself.
Prince Alastair is a serious business man and sees Penny-Rose as a necessity to achieve what he wants, the throne. Due to strict guidelines set forth by those before him he must marry someone pure and of "virtue" and plans to do just that but he has guidelines of his own. Shunning an emotional relationship he develops a contract; Penny-Rose will be his "wife" for one year after which he will divorce her for his current lover Bell. Or at least that is what Prince Alastair had hoped to achieve. There is little mention of Bell, Prince Alastair's lover, but the small bits and scenes the reader gets are a portrait of a woman the complete opposite of Penny-Rose. Bell is more of a reflection of what Alastair longs to be: cold and emotionless. But after spending time with his "fake" wife his tone and manner changes for the better.
Terrible font aside the plot flowed rather smoothly as there were not many shocking twists and turns in the story line. The artwork overall was good though at first it took my eyes a few pages to get used to. I felt that the characters were well-developed enough that their own personalities shown through any rough patches of the style and horrid font that was used (can't help mentioning it twice.)
I enjoyed this as a light and refreshing read during a rainy day. This one-shot manga adaptation of A Royal Proposition has a very likable lead female character. I think I enjoyed this, more so than some of the Harlequin manga titles I've read so far, because of how strong and yet fragile Penny-Rose is. Usually fantasy titles of woman being married off to royalty involve that they disregard their past hardships but Penny-Rose insisted on still learning her trade of being a stone mansion. While still being a working woman she maintains her soft, delicate, and caring aura that surrounded her throughout the tale.
This review is based on of eManga's online edition of "A Royal Proposition" which is also available in electronic format for Kindle users on Amazon.com for digital download.